Miquel Soler, a whole globetrotter of Spanish football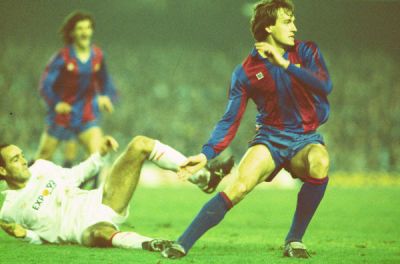 Talk of Miquel Soler is talking about one of those players with a long career, decades, with presence in large teams but nevertheless, It was a modest player profile. tireless side, accumulator kilometers minutes over years and years of career, despite not having a huge sign or be a spectacular footballer, He was always a set where he played. In Colgados we review the history of this globetrotter of Spanish football.
Born in 1965, Miquel Soler debut 1983 with Espanyol and retired in 2003 in the rows of Mallorca. In between he played in L'Hospitalet, Barcelona, Atletico Madrid, Sevilla, Real Madrid and Zaragoza. Twenty seasons in the elite in which he played 504 games in the top flight of Spanish football. Two decades in which the band see him run, It was a classic mostly because he dressed up to seven different shirts in First.
During his career he won two league titles, three Copa del Rey, two Super Cups in Spain, one Recopa, one European Super Cup, a track record nothing wrong. He also became international with Spain in 9 occasions and even went to the European Championship 1988. It is a level of data, one of the greats of the League in seasons historical and games. He accumulated 38848 minutes, almost nothing. Also he marked 12 goals although his left-back position did not give to have many joys goleadoras.
further, It is one of the few players who played in two teams of Barcelona and the two big Madrid. He retired in style in Mallorca won the last title he won the Balearic club at that historic King Cup Mallorca and Recreativo de Huelva were held in Elche. A final type is mounted as the subject in LFP and RFEF, will not see. but that is another subject.
After his retirement, the roadrunner bands of Spanish football decided to go across the line to lead. A) Yes, Mallorca signed him for the first team in the summer of 2014 and he dismissed a few weeks to give the baton to Valeri Karpin who was dismissed in January 2015 to rehire our protagonist after having thrown a few months earlier. Like to have a career as equally long and successful coach as a player, will see a classic in the Spanish bench.