The 10 most controversial coaches in history
Hanged for football wants them to present to the 10 most controversial coaches in history. Like all the team lists for football makes Colgados, the valuation is based on the data we have researched and possess. Everyone will have their opinion but as always, We accept suggestions and observations. Our list is as follows:
1-Helenio Herrera
"We won this game without getting off the bus ". This sentence was pronounced by which is undoubtedly the number 1 list most controversial coaches in history. He removed the sport with his inflammatory statements and moodiness.
Born in Argentina, raised in France and living in Italy and Spain, Herrera was famous for winning numerous titles in the decade of the 60's, especially with Inter Milan and aggressive rhetoric.
"Football is best played with 10 with 11 " O "Many believe me omnipotent because they say they know everything. That is not true, failure ever met and I'm proud of that " were some of her pearls. Definitely, It was a good source than our 2 on this list sure he learned.
2- Jose Mourinho
" I'm not the best in the world but I think there is nobody better than me". So he spends Mourinho, Helenio Herrera the XXI century, a worthy apprentice. Definitely, we talk about the most controversial person in world football today.
With a giant ego, Portuguese is certainly a born winner who never leave anyone indifferent. His polemics with Spanish referees , his battles with some players like Iker Casillas or some of his incendiary statements being other challenging attitudes, will certainly become the most controversial moment coach
To remember your celebration at the Camp Nou with Inter Milan after qualifying for the final of the Champions 2010. The Special eleven as it was called in England
3-Luis Aragones
"Tell him from me that black shit that you're better than him". So the veteran Spanish coach trying to encourage Reyes that will take your Thierry Henry put Arsenal.
El Sabio de Hortaleza, always he characterized as a guy without mincing words. Tanning in a thousand battles and some more, the veteran coach was stiff with many throughout his career and has never been silent.
A) Yes, we could highlight his fight with Romario in training Valencia as he espetaba "Look into my eyes" O when he dangled Samuel Etoo as he grabbed his neck in a match Mallorca. Definitely, It was the less genuine guy.
4-Javier Clemente
Javier Clemente is a peculiar kind and a very strong personality. Basque has never been daunted with anyone and has faced any.
I was with Maradona 1983 after entry of the injured Goicoechea "Fluff" and after appropriate brawl in the final of Copa del Rey 1984 which he led to a pitched battle with the Argentine star out whether completely.
Curtido in Spanish football and experience as coach of Serbia and Cameroon, He was able to drop beads as " I'm from Bilbao, If I can come three with them but if they come ten equal and no" regarding Betis fans chasing him. Last season left his last pearl so far with a bitter confrontation with a reporter Gijon.
5-John Benjamin Toshack
"Mondays always think about switching to ten players, Tuesday at seven or eight, Thursday four, Friday two, and Saturday and I think they have to play the same scumbags." With such graphic phrase dispatched John Toshack in his second stint as coach of Real Madrid.
Welsh has always stood out not to be cut when expressed in particular its Castilian. "You are more likely to see a pig flying over the Bernabeu I rectify", "I am a likeable bastard " O "Benito Floro is a good coach, but has no bitch idshe soccer" They are some of the many phrases to remember that this Welsh rotund appearance and quirky verbiage left. Definitely a guy I'll talk more in depth another day.
6-Carlos Bilardo
"The pen, pen, fuck I care about the opponent, the enemy or water, ours are the Colorado ", It is definitely one of the best letters of Carlos Bilardo.
The incident occurred when the Argentine trained to Sevilla in the early 90's and his team masseur came to attend a rival. The truth that Bilardo is a type of those who do not leave anyone indifferent.
He was the coach who made the last time champion Argentina to a World Cup but the "conk" also enters ranking controversial types for obvious merits. Once he said "The woman is like a player: If you do not want in certain position, not to insist". No doubt a figure.
7- Louis van Gaal
"Forever "negative" never "positive". Who does not remember the Dutchman Louis Van Gaal pronounce the phrase with its unique Castilian. He won the league several times in Barcelona but his controversial and absurd forms signings and ended up not reaching the fans of Barcelona. It claims to be the man who instructed Mourinho and even said he learned from him. A guy himself well paid and a faithful lover of his book.
8- Alex Ferguson
"The real Madrid, as General Franco's club, He was accustomed, before democracy came to Spain, who he wanted to get and do what he pleased ", and explosive Alex Ferguson was shown during a press.
The recently retired Manchester United has left many good lines along the 27 seasons addressed to the "Red Devils". Characterful, It has never hidden when giving sticks
"In my opinion (You look), not worth 25 million pounds. It was popular among fans. Fans rightly, They have their heroes and I was happy to reach an agreement with the offer, whenever the right, but, simply, it is not worth what was paid" He said unabashedly about the player then ended in the City, eternal rival. Certainly a man of English football fans will miss.
9-Marcelo Bielsa
"The weapon is yours as journalists the written word. My weapon is the spoken word. I use phrases fifty to round an idea and then you have to put in a line". This phrase, Marcelo Bielsa belongs to a genuine guy and dubbed as the "Loco".
Capable of wanting to control everything, came to stick with the manager works Sports City Athletic because it was not according to their execution. Then without thinking twice, He acknowledged that they had come to blows at a press conference. The "Loco" It is one of those guys as great as vehement, a coach who runs the suit and topical.
10-Osvaldo Zubeldía
"what, Students of 1967 Y 1968 It was sensational. In England we were champions of the world and that can not be achieved with antifútbol. What happened was that after that force was tired and did not respond to players. They were so many tours, friendly codisks, virtually the entire campus was injured. further, the team was poor and in the six years did not buy a single player. So what happened? that players given that they had neither the physical strength to play, They had to devote to throw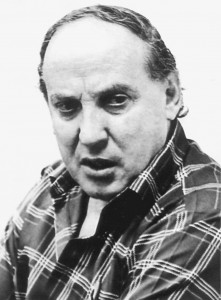 the ball out, to freeze the ball and stuff. That's what they called the antifútbol, but it was not by strategy, It was by necessity". Osvaldo Zubeldia was responding before the questions of journalists who described him as a lover, creator and promoter of underground football.
A character type that revolutionized the Colombian football stating that " End the nap and heavy lunches". It was also great in Argentine football.
He led Estudiantes to win at Old Trafford Intercontinental, where still they keep a blackboard with a great phrase; " The glory is not reached by a bed of roses".
A guy I certainly discuss further at another time because it's worth.