The best football game in history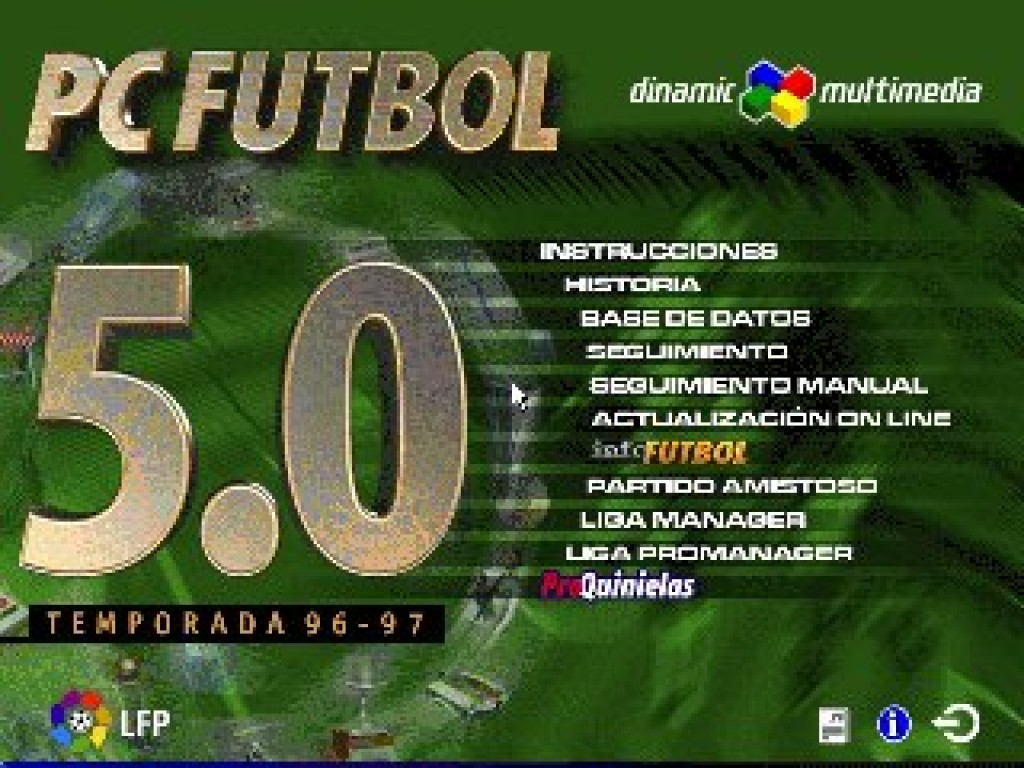 In this article we step out of the standard pattern of the page to discuss the best football game of our lives, of those who were able to leave you stuck for hours while your friends are playing down the park. Of those who were you up late at night playing. If you're a 'geek' like us, I remember a few of them with a dose of romanticism.
PC Football
The manager par excellence of football video games. With a loose simulator but a system manager amazing, Few say they have not spent hours and hours of play to a format in the late 90's stood out as the best in the world. Too bad the company that produced the series went bankrupt and could no longer take flight. the 2001 was the last one took Dinamic. Then came other versions that were never what was the original because that, it was impossible. Hours transfer, Ticket Sales, stadium construction and to control food sales. Those days mid-late 90 and early 2000. In this article we talked in depth than is, one of the best sagas of vídoejuegos football history.
Soccerbrawl
It consisted of a futuristic world, where footballers were handing out cakes robots and lasers as right and left you were trying to score the goal with the special shot of each player, simple game, but full of romance hitching during summer afternoons and evenings in recreational shift. One of those games where you gastabas pay your parents but were enjoying as a dwarf.
Superside Kicks
Great football game ahead of its time where you could emulate your idols in the World by Chilean spectacular. Like all games of that time had his own trick to score the goal that always came repetitively. But it did not matter, because he missed hours as it was definitely one of the best games of football 90 at least in recreational machine.
FIFA International Soccer
In the 90 it was fashionable to put this "international soccer" football video games. Thus came the first FIFA history, Beyond the new season 93/94 and on the eve of the World USA 94. Without the licenses that years later would acquire and players like Roberto Comings in Spain, the first FIFA took us many hours playing with friends in front of that Mega Drive game gave both. It was the beginning of a successful franchise that today continues to break the market and each year takes a more realistic game.
Emilio Butragueno
It was a legendary game of the 80's, Dinamic created by the same people who then would in the PC game Football, where 21 brunettes and a blonde head moved on a green screen belonging to a CPC Amstrand 64 K. The blonde was the mythical vulture. Definitely a classic childhood of many who today are moving between 35 and the 50 years.
Italy 90
Back in the distant 1990, Italy was the country responsible for organizing the World. as, the emerging game industry took the corresponding game. This was the Italy 90 we could enjoy Sega for their consoles. Heads running around the field and many nostalgic moments for those who now spend the 30
Iss Pro and subsequent PES saga
Iss since leaving the franchise Konami Pro was undisputed market leader. With innovative gameplay and realism that FIFA did not reach. Then they were  FIFA stragglers and ate him. Yet still soldiering less and leagues licenses EA Sports game but realistically on the green