Christopher Nkunku, one of the most followed players in Europe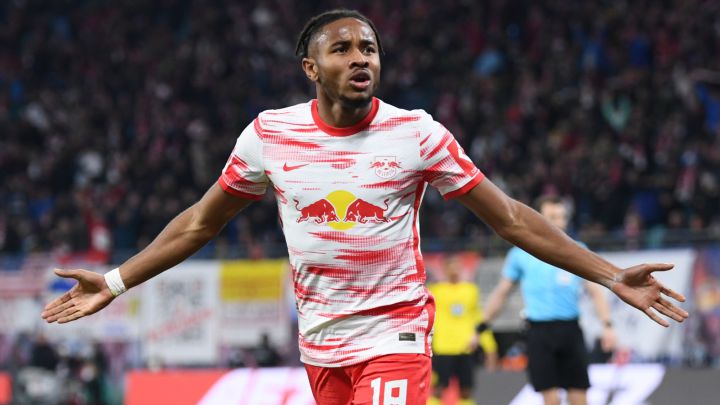 The name of Christopher Nkunku is one of those who have written in fire on the agendas of the sporting directors of the great teams in Europe. The footballer of the one of the soccer teams that Red Bull has in the world, he RB Lepzig, has been uncovered as one of the revelations of the Champions 21-22 and there are many teams that have already set their sights on the French player.
Christopher Nkunku, a product of the PSG quarry
Born in 1997 in Lagny-sur-Marne, France, Christopher Nkunku joined the PSG quarry when he was barely 13 years and went all the way from the lower to the first team. However, He did not have the necessary continuity in a club that swells to pay millions for stars like Neymar, Messi, Mbappé and a long etcetera in the last 10 years, but that lets go of its most promising youth players.
Thus we find cases like Rabiot's, Matuidi, Jean-Kevin Augustin or own Nkuku among many cases. Something that many outfits take advantage of in Europe. And it is that the Parisians, they have a gold mine in their quarry that they seem not to want to take advantage of and prefer to drop a mountain of millions for outside players.
One of the revelations of the Champions League
Signed by RB Lepzig in 2019 in the absence of opportunities in Paris, Christopher Nkunku has been uncovered this season 21-22 as one of the great scorers of the Champions and as one of the revelation players in Europe. It is not for less since it has marked 5 goals in 11 Bundesliga matches and others 5 in 4 matches in the Champions League.
According to the prestigious website Transfer market its market value are 47 million euros and now, there are many teams that want to get their services, including PSG itself, who should pay a good amount for a player, that he trained in his quarry and that he had to go abroad to show that he has little or nothing to envy some of the footballers who are part of the Parisian squad.
Jude Bellingham, the pearl of Dortmund that is surprising Europe