Nike and Adidas play their own derbies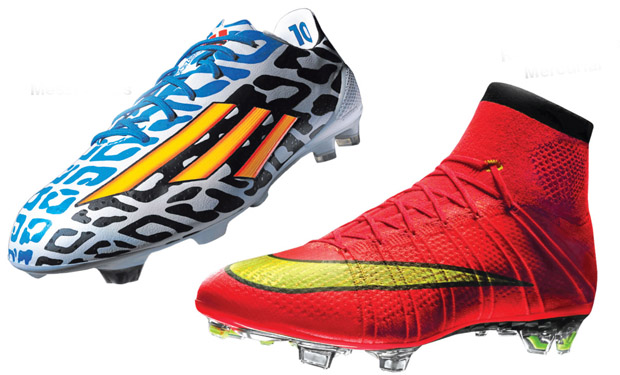 Nike and Adidas are the two biggest sports brands in the world, the two giants that dominate with permission from many other important, the market for sportswear. How could it be less, are also the two giants of world football luggage for both teams and football boots. A rivalry that has transcended the business to even move the football field.
Even the two players who are considered the best at this time fall into this war. Cristiano Ronaldo is Nike and Adidas Leo Messi is though curiously the first has to wear Adidas, the brand you saw the Real Madrid and second of Nike, the brand you saw the Barcelona. Precisely the classic Spanish soccer live this duality, the battle between Adidas and Nike.
For example in the Spanish League we found that matches regarded as classics or derbies also live citizen particular rivalry between Nike and Adidas derby. For example besides the Real Madrid-Barcelona meet Atletico Madrid (Nike)-Real Madrid (Adidas), Real society (Adidas)-Athletic Bilbao (Nike) and the Levant (Nike)-Valencia (Adidas).
In other countries this particular derby also lives. In Mexico for example in the Regio Classic between the two teams saw Tigres Monterrey where Adidas and Nike Monterrey. The classic always hot among America (Nike) and Chivas (Adidas) also they give way to the rivalry between the two marks. US to New York Red Bulls New derbi (Adidas) vs New York City (Nike) They live this rivalry.
Other derbies living the two brands are : Boca (Nike)-River (Adidas), Juve (Nike)-Milan (Adidas), Inter (Nike)-Milan (Adidas), Olympique (Adidas)-PSG (Nike),Fenerbahce (Adidas)-Galatasaray (Nike), Corinthians (Nike)-Flamengo (Adidas), Zenit San Petersburgo (Nike)-CSKA Moscow (Adidas) Millonarios (Adidas)-National Athletic (Nike).