Barcelona 2- Sevilla 1: Villa and Messi give another victory at Barcelona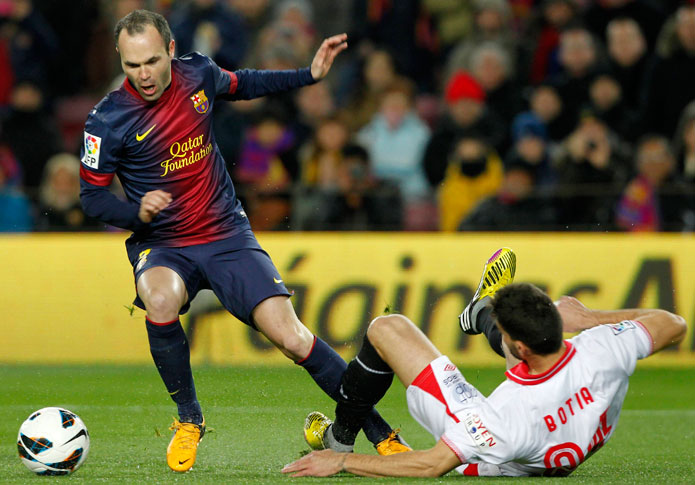 El Barçelona tuvo que levantar un partido difícil que se le empezó a atragantar cuando el Sevilla se adelantó (0-1), pero al final dos zarpados en ocho minutos de Villa y Messi (2-1) dieron un triunfo a los azulgrana.
Después del revés en la Liga de Campeones contra el Milan, el Barcelona apostó por un equipo con muchas rotaciones a la espera de los dos encuentros seguidos contra el Madrid (Copa y Liga), y se topó a un Sevilla muy íntegro que le hizo vivir una pesadilla durante muchos minutos, aunque al final Unai Emery sumó su decimoquinto partido contra los azulgrana sin saber qué es ganar.
El Sevilla debió echar un ojo al vídeo del Milan-Barca (2-0) del pasado miércoles, ya que el equipo de Unai Emery se plantó con el mismo objetivo, también repetido por otros clubes con diferente suerte.
Los sevillistas entregaron las bandas para que por ahí Alexis y Villa lo intentasen en solitario, mientras que cerraron a cal y canto el eje de la defensa, con dos pivotes por arriba, como fueron Maduro, Average, que tan buen resultado dio en la primera parte.
El Barcelona se vio superado por las circunstancias del rival; a falta de espacios para mover el balón y crear peligro, su juego fue siendo cada vez más espeso hasta resultar no sólo improductivo, sino carente de chispa y temor.
A diferencia del encuentro contra el Milan, esta vez los barcelonista buscaron cierta profundidad por el centro, ya que las bandas era inoperantes, excepto en alguna incursión de Iniesta, and in some approximations distant shots appeared and the search for a free kick that gave Messi the possibility of undoing the equality.
Apart from a robbery of Messi in the center of the field, that enabled a counterattack that ended with the ball at the feet first of Iniesta and then of Alves, although on both occasions he was repelled by the Sevilla defense, the azulgrana game was marked to enter through the center again and again.
In the first foul that Messi had in the front, at quarter of an hour, the ball ended up against the wall. At 28 and in 34, once again the Argentine tried with a direct free kick, but without fortune.
Before, at 22, Messi received a good ball in the area, cut back and with a dry shot with his right foot forced Beto to intervene from below.
Al margen de estos episodios, y de uno más, pasado el minuto 45, en que un centro de Iniesta hizo que el balón se pasease por la meta, el Sevilla no pasó ningún apuro, hasta el punto de sentirse al paso de los minutos cómodo y confiado.
Hizo su primera incursión en un centro de Coke en que Valdés se lanzó al suelo para detener la pelota y repitió secuencia en el 40, pero la estocada de gracia llegó en el 42 when, otra vez Coke, envió un balón envenenado al centro del área azulgrana y Botía ganó en el salto a Alves para rematar de cabeza a gol (0-1).
In resuming, el Barça apostó por Tello, que entró en lugar de un Alexis muy apagado en la primera parte. La entrada del joven catalán creo otra atmósfera en el ataque catalán, aunque el gol del empate azulgrana llegó de una acción ortodoxa: centro de Alves y, Villa como delantero centro, remató a gol (1-0).
Tello otra vez, después de una jugada muy elaborada del Barcelona, envió al centro del área donde Messi recibió sin marca y logró el segundo de su equipo (2-1).
Tocado el Sevilla y con un Barça crecido, Messi volvió a disponer de una acción clara en un remate de cabeza, cuando Fazio falló en el despeje. Nuevamente Messi, in the minute 22, intentó de con un trallazo desde fuera pero el balón salió ligeramente alto.
Emery metió a Negredo por Babá para refrescar las opciones ofensivas y el Sevilla incrementó la agresividad. The Seville team, with the 2-1, se fue arriba y en el tercer intento casi consecutivo Rakitic pudo haber empatado con su disparo.
El partido entró en una fase de intercambio de golpes con llegadas a ambas áreas, a pesar de que Xavi ingresó en el campo en lugar de Iniesta para controlar el centro del campo. Manu del Moral y, en la siguiente acción, Tello volvieron a generar claro peligro con sendos disparos.
Negredo, at 30 of the second part, tuvo una gran ocasión de gol cuando a pase de Rakitic se quedó sólo por velocidad y ante la salida de Valdés envió alto el balón. It was him 2-2, pero se le resistió al Sevilla, que estaba viviendo unos momentos de máxima intensidad, hasta que el Barça ordenó un nuevo cambio, con la entrada de Busquets en lugar de Villa, para serenar la medular.