Do you know Yevhen Konoplyanka?
Yevhen Olehovuch Konoplyanka is known as the "Messi" Ukrainian. This player 25 years, He currently plays for Dnipro Dnipropetrovsk of the Ukrainian Premier League and, also, is one of the pillars of the national team. He's a fast right winger with a lot of dribbling, he has a scoring nose and still has a lot of room for improvement. For these reasons it is now sought after by numerous European teams such as Manchester and Liverpool..
The Ukrainian star, kicked a ball for the first time in his hometown, in Kirivohrad although before playing football, enrolled in a karate school. In a short time he discovered that what he really liked was soccer and that, also, He had great skill for this sport. A product of the FC Olimpik Kirivihrad quarry also participated in the Ukrainian Youth Competition.
Konoplyanka arrived at Dnipro with 16 years. Due to his good performances the coach noticed him and in winter of 2006 was promoted to the reserve team of Dnipro. Yevhen's long-awaited debut in the Ukrainian Premier League came on 26 of August 2007. It was a comfortable game a priori for Dnipro, but in the end it ended in a draw. His professional career was accelerated in 2010 with his first goal in the first team on 28 February 2010.
From there, started playing the 90 minutes and began to show all his qualities. Comparisons began to be made with high-caliber players like Messi. That same year, was called up to the national team by coach Myron Markevych. His successful debut made him a basic pillar of the senior team. Your season has been memorable, because thanks to his game and his goals, the team has reached second place in the national standings leading it to the Champions League next season.
With the Ukrainian National team he did not achieve the goal of qualifying for the World Cup, since they were second and in the repechage they had to play against Ribery's France, Pogba and Benzema among others. Despite winning at home by 2-0, they did not manage to maintain that comfortable income in the second leg played in Paris. The French managed to pass with a 3-0. In the national team, many people consider him as Shevchenko's replacement, an idol of Ukrainian fans..
On an individual level, Yevhen has been named Ukrainian footballer of the season twice in a row in the 2011 and the 2012. further, is the most popular soccer player in Ukraine. By last, has been included in the best 11 of the UEFA Europa League in the year 2012. Another one of those players called to succeed and that as always in Colgados we present you.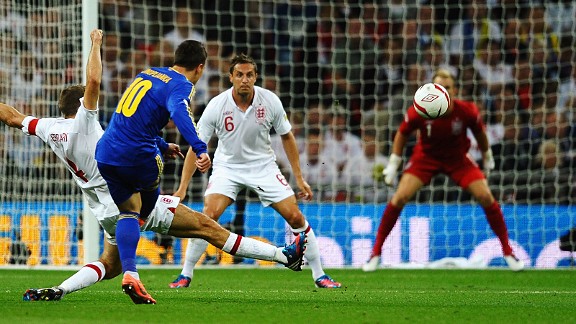 PD: You can see the video of Youtuber TheKyLer analyzing the game of the ukrainian star