Spain, Specialist win penalty shootouts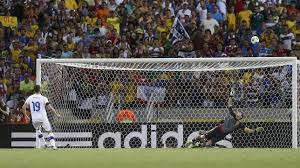 Who has seen and who sees you? Spain, Specialist World and European Championships let the lottery of penalty kicks, It is now an accomplished expert in these conflicts. When tie was lost, now is win. A) Yes, Quick and easy, what a day is black, the other is white. Red has gone from a dark history in penalty shootouts to be the best. The reason? extraordinary throwers, a goalkeeper with greater capacity for maximum penalties stop (Casillas by Zubizarreta) and trust, much trust. In Hanged For Football, We go over the penalty shoot-outs of the Spanish team, noting a slight change from 2008:
Spain-Belgium: the quarterfinals of Mexico 86 they seemed affordable, more than ever, but the "Red Devils" they passed on the road and forced the first penalty in the history of selection in official matches. Zubi between the sticks was unable to stop a single release. Pfaff stopped change one, a Eloy Olalla.
Spain- England: rooms again and this time the anfritrión Euro 1996 in neither more nor less than Wembley. Seaman against Zubizarreta, Iron against Shearer. How could it be otherwise, Spanish goalkeeper left again without stopping a penalty. Seaman stopped if Nadal. Previously, Iron had crashed the ball into the crossbar. The English never regained any more.
Spain-Ireland: knockout, and with Casillas in goal we gave the first joy in these lots. The young Spanish goalkeeper became a hero improvised party had all. many penalties, testicular torsion and pure excitement. Iker saved three maximum penalties throughout the game.
Spain-Korea: The world Cup 2002 It will be remembered for the role of Koreans in the World 2002. After finishing 120 minutes scoreless 0 thanks in part to a collegial name the Ghandour and his linesman, Spain had to look for the pass to the semifinals on penalties. they seemed to favorites, but this time Iker not stop a single penalty and Joaquín, best match, He missed the fourth launch of the combined Camacho.
Spain Italy: it was a before and an after. As usual, In rooms. Buffon against Casillas in the duel to see who was the best goalkeeper in the world. When nobody gave a hard, when everyone believed would happen as usual, He jumped surprise. Iker stopped two penalties that offset the failure of Güiza. Cesc scored a goal that was scrubbed the eyes of millions of people. It happened at Euro 2008.
Spain-Portugal: again a European Championship, of 2012. An Iberian duel that ended in draw 0 and he resolved in an agonizing shootout, where Spain fell behind and ended up winning without allowing even that Cristiano Ronaldo will launch his latest penalty. Luck had changed neighborhood.
Spain Italy: less competition like the Confederations became greater with the presence of two great team in a great match, in which there were no goals, but emotion and intensity. Everything ended 0-0 About five years ago and he had to go to the spot. Buffon against Casillas again. None saved a penalty, because there was exhibition of pitches and pitching. high quality, until Bonnucci sent to the clouds.