Most capped players in the world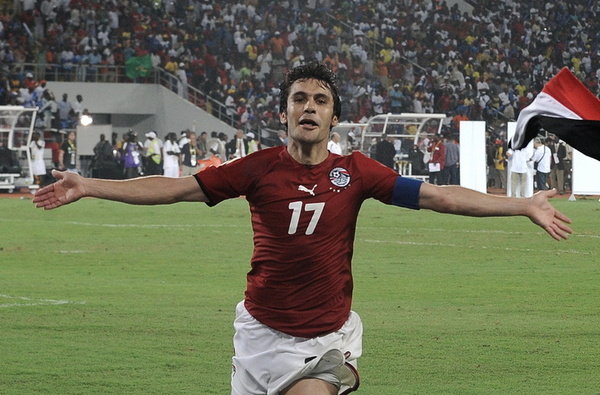 Play more than 100 international matches with the national team represents the border of the exceptional. Not only enough to have an unquestionable quality beyond doubt, it is also necessary for some of that talent that injuries go with you and that you attend regularly over a long period of time.
There are worldwide total 286 players who have the pleasure of having overcome the barrier of 100 matches. Ahmed Hassan, Egypt is the leader of this select classification 184 matches played. The North was active with your selection 17 years and leads in seven games to Claudio Suárez, Aztec who reached the 177 internacionalidades.
Traditionally, America and Africa are the continents where has been easier to play matches with the same national team. This is reflected in the fact that at the Top 10 this list Vitalijs Astafjevs only Latvian and Estonian Martin Reim represent the Old Continent. But nevertheless, I must say that slowly teams like Spain and Germany are incorporating this ranking members. So many that the Germans can now boast ten members and eight Iberian waiting to Villa add four duels and set the bar in nine.
U.S, with 15 representatives, and Egypt, with 12, They seem to play in another league. Another where Casillas could enter the top ten if the Red passes the first stage.
Source Wikipedia to 8 June 2014:
Rank
Name
Nation
Confederation
Caps
First
Last
Duration
1
Ahmed Hassan
Egypt
CAF
184
29 December 1995
22 May 2012
16 years, 145 days
2
Mohamed Al-Deayea
Saudi Arabia
AFC
178
9 April 1993
11 May 2006
13 years, 32 days
3
Claudio Suárez
Mexico
CONCACAF
177*
25 July 1992
1 June 2006
13 years, 311 days
4
Hossam Hassan
Egypt
CAF
169
10 September 1985
23 June 2006
20 years, 286 days
5
Ivan Hurtado
Ecuador
CONMEBOL
166
24 May 1992
16 May 2010
17 years, 357 days
6
vitālijs astafjevs
Latvia
UEFA
165
26 August 1992
17 November 2010
18 years, 83 days
7
Cobi Jones
United States
CONCACAF
164
3 September 1992
9 October 2004
12 years, 36 days
8
Adnan Al-Talyani
United Arab Emirates
AFC
161
10 March 1984
17 December 1997
13 years, 282 days
9
Sami Al-Jaber
Saudi Arabia
AFC
157
11 September 1992
23 June 2006
13 years, 285 days
10
Martin Reim
Estonia
UEFA
156
3 June 1992
6 June 2009
17 years, 3 days
=
Landon Donovan
United States
CONCACAF
156
25 October 2000
2 April 2014
13 years, 159 days
12
Iker Casillas
Spain
UEFA
154
3 June 2000
7 June 2014
14 years, 4 days
13
Lothar Matthäus
West Germany
Germany
UEFA
150
14 June 1980
20 June 2000
20 years, 6 days
14
Ali Daei
Iran
AFC
148
6 June 1993
21 June 2006
13 years, 15 days
15
Pavel Pardo
Mexico
CONCACAF
148
31 August 1996
11 April 2009
12 years, 223 days
=
Anders Svensson
Sweden
UEFA
148*
12 November 1999
19 November 2013
14 years, 7 days
17
Gerardo Torrado
Mexico
CONCACAF
146
9 June 1999
7 September 2013
14 years, 90 days
18
Javier Zanetti
Argentina
CONMEBOL
145
16 November 1994
16 July 2011
16 years, 242 days
19
Salman Isa
Bahrain
AFC
144
6 February 2001
8 November 2012
11 years, 276 days
=
Yasuhito Endō
Japan
AFC
144
20 November 2002
7 June 2014
11 years, 199 days
21
Marko Kristal
Estonia
UEFA
143
3 June 1992
20 April 2005
12 years, 321 days
=
Thomas Ravelli
Sweden
UEFA
143
15 February 1981
11 October 1997
16 years, 238 days
23
Cafu
Brazil
CONMEBOL
142
12 September 1990
1 July 2006
15 years, 292 days
=
Lilian Thuram
France
UEFA
142
17 August 1994
13 June 2008
13 years, 301 days
=
Muhammad Al-Khilavi
Saudi Arabia
AFC
142
20 October 1992
5 October 2001
8 years, 350 days
26
Essam El-Hadary
Egypt
CAF
141
1 September 1996
31 May 2014
17 years, 272 days
27
Gianluigi Buffon
Italy
UEFA
140
27 October 1997
4 June 2014
16 years, 220 days
28
Javad Nekounam
Iran
AFC
139
24 May 2000
30 May 2014
14 years, 6 days
29
Amado Guevara
Honduras
CONCACAF
138
5 May 1994
21 June 2010
16 years, 47 days
30
Walter Centeno
Costa Rica
CONCACAF
137
27 September 1995
18 November 2009
14 years, 52 days
=
Jari Litmanen
Finland
UEFA
137
22 October 1989
17 November 2010
21 years, 26 days
=
Rigobert Song
Cameroon
CAF
137
22 September 1993
24 June 2010
16 years, 275 days
=
Bader Al-Mutawa
Kuwait
AFC
137
4 September 2003
9 September 2013
10 years, 5 days
34
Fabio Cannavaro
Italy
UEFA
136
22 January 1997
24 June 2010
13 years, 153 days
=
Hong Myung-Bo
South Korea
AFC
136
4 February 1990
20 November 2002
12 years, 289 days
=
Giorgos Karagounis
Greece
UEFA
136
20 August 1999
7 June 2014
14 years, 291 days
37
Jeff Agoos
United States
CONCACAF
134
10 January 1988
26 May 2003
15 years, 136 days
=
Dorinel Munteanu
Romania
UEFA
134
23 May 1991
12 September 2007
16 years, 112 days
39
Bashar Abdullah
Kuwait
AFC
133
16 March 1996
12 June 2007
11 years, 88 days
=
Lee Woon-Jae
South Korea
AFC
133
5 March 1994
11 August 2010
16 years, 159 days
=
Andres Oper
Estonia
UEFA
133
19 May 1995
26 March 2013
17 years, 311 days
42
Hussein Sulaimani
Saudi Arabia
AFC
132
19 September 1996
9 September 2009
12 years, 355 days
=
anatoliy Tymoshchuk
Ukraine
UEFA
132
26 April 2000
22 May 2014
14 years, 26 days
=
Miroslav Klose
Germany
UEFA
132
24 March 2001
6 June 2014
13 years, 74 days
=
Robbie Keane
Republic of Ireland
UEFA
132
25 March 1998
7 June 2014
16 years, 74 days
=
Xavi
Spain
UEFA
132
15 November 2000
7 June 2014
13 years, 204 days
47
kiatisuk senamuang
Thailand
AFC
131
8 April 1993
3 October 2007
14 years, 178 days
=
Sargis Hovsepyan
Armenia
UEFA
131
14 October 1992
11 September 2012
19 years, 333 days
49
Jorge Campos
Mexico
CONCACAF
130*
20 November 1991
19 November 2003
11 years, 364 days
=
Edwin van der Sar
Netherlands
UEFA
130
7 June 1995
15 October 2008
13 years, 130 days
51
Peter Schmeichel
Denmark
UEFA
129
10 May 1988
25 April 2001
12 years, 350 days
=
Daniel Bennett
Singapore
AFC
129
11 December 2002
6 February 2013
10 years, 57 days
53
Marcelo Balboa
United States
CONCACAF
128
10 January 1988
16 January 2000
12 years, 6 days
=
Luis Marín
Costa Rica
CONCACAF
128
23 June 1993
21 November 2007
14 years, 151 days
=
Roberto Palacios
Peru
CONMEBOL
128
25 November 1992
25 May 2012
19 years, 182 days
=
Ibrahim Hassan
Egypt
CAF
128
3 February 1988
6 January 2002
12 years, 337 days
57
Luis Figo
Portugal
UEFA
127
12 October 1991
8 July 2006
14 years, 269 days
=
Ali Karimi
Iran
AFC
127
13 October 1998
6 November 2012
14 years, 24 days
=
Lee Young-Pyo
South Korea
AFC
127
12 June 1999
25 January 2011
11 years, 227 days
=
Dennis Rommedahl
Denmark
UEFA
127
16 August 2000
11 June 2013
12 years, 299 days
61
Paolo Maldini
Italy
UEFA
126
31 March 1988
18 June 2002
14 years, 79 days
=
Hussein Saeed
Iraq
AFC
126
17 July 1977
3 March 1990
12 years, 229 days
=
Andoni Zubizarreta
Spain
UEFA
126
23 January 1985
24 June 1998
13 years, 152 days
64
Shay Given
Republic of Ireland
UEFA
125
27 June 1996
18 June 2012
15 years, 357 days
=
Roberto Carlos
Brazil
CONMEBOL
125
26 February 1992
1 July 2006
14 years, 125 days
=
Peter Shilton
England
UEFA
125
25 November 1970
7 July 1990
19 years, 224 days
67
Gheorghe Hagi
Romania
UEFA
124
10 August 1983
24 June 2000
16 years, 319 days
=
Waleed Ali
Kuwait
AFC
124
9 May 2002
3 March 2014
11 years, 298 days
69
Thierry Henry
France
UEFA
123
11 October 1997
19 June 2010
12 years, 251 days
=
Hany Ramzy
Egypt
CAF
123
16 November 1988
12 February 2003
14 years, 88 days
71
David Carabott
Malta
UEFA
122
15 November 1987
9 February 2005
17 years, 86 days
=
Masami Ihara
Japan
AFC
122
27 January 1988
5 July 1999
11 years, 159 days
=
Abdullah Zubromawi
Saudi Arabia
AFC
122
18 April 1993
11 June 2002
9 years, 54 days
=
Carlos Salcido
Mexico
CONCACAF
122
8 September 2004
4 June 2014
9 years, 269 days
75
Cha Bum-Kun
South Korea
AFC
121
7 May 1972
10 June 1986
14 years, 34 days
=
Aide Iskandar
Singapore
AFC
121
21 February 1995
12 September 2007
12 years, 203 days
=
Ramon Ramirez
Mexico
CONCACAF
121
4 December 1991
15 November 2000
8 years, 347 days
=
Odelín Molina
Cuba
CONCACAF
121
12 May 1996
16 July 2013
17 years, 65 days
=
Noel Valladares
Honduras
CONCACAF
121
6 June 2000
7 June 2014
14 years, 1 day
80
Mohamed Al-Jawad
Saudi Arabia
AFC
120*
21 March 1981
3 July 1994
13 years, 104 days
=
Ian Goodison
Jamaica
CONCACAF
120*
3 March 1996
23 May 2009
13 years, 81 days
=
Yoo Sang-Chul
South Korea
AFC
120
5 March 1994
3 June 2005
11 years, 90 days
=
Subait Khater
United Arab Emirates
AFC
120
20 August 1999
15 November 2011
12 years, 87 days
=
Mart Poom
Estonia
UEFA
120
3 June 1992
10 June 2009
17 years, 7 days
=
Rüştü Reçber
Turkey
UEFA
120
12 October 1994
14 October 2009
15 years, 2 days
=
Theodoros Zagorakis
Greece
UEFA
120
7 September 1994
22 August 2007
12 years, 349 days
=
Juan Arango
Venezuela
CONMEBOL
120*
15 April 1999
11 October 2013
14 years, 179 days
=
Younis Mahmoud
Iraq
AFC
120
19 July 2002
15 November 2013
11 years, 119 days
=
Rafael Márquez
Mexico
CONCACAF
120
5 February 1997
7 June 2014
17 years, 122 days
90
Gilbert Agius
Malta
UEFA
119
7 November 1993
18 November 2009
16 years, 11 days
=
Cuauhtemoc Blanco
Mexico
CONCACAF
119
1 February 1995
17 June 2010
15 years, 136 days
=
Pat Jennings
Northern Ireland
UEFA
119
15 April 1964
12 June 1986
22 years, 58 days
=
Didier Zokora
Ivory Coast
CAF
119
4 April 2000
31 May 2014
14 years, 57 days
94
Geremi
Cameroon
CAF
118
6 October 1996
14 October 2010
14 years, 8 days
=
Karel Poborský
Czech Republic
UEFA
118
23 February 1994
22 June 2006
12 years, 119 days
96
Angus Eve
Trinidad and Tobago
CONCACAF
117
12 April 1994
12 July 2005
11 years, 91 days
=
Heinz Hermann
Switzerland
UEFA
117
6 September 1978
13 November 1991
13 years, 68 days
=
Olof Mellberg
Sweden
UEFA
117
23 February 2000
19 June 2012
12 years, 117 days
=
Andrejs Rubins
Latvia
UEFA
117
10 November 1998
11 October 2011
12 years, 335 days
100
Marcel Desailly
France
UEFA
116
22 August 1993
17 June 2004
10 years, 300 days
=
Majed Abdullah
Saudi Arabia
AFC
116
4 May 1978
29 June 1994
16 years, 56 days
=
Abdulrahim Jumaa
United Arab Emirates
AFC
116
25 November 1998
1 April 2009
10 years, 127 days
=
Yoshikatsu Kawaguchi
Japan
AFC
116
13 February 1997
19 November 2008
11 years, 280 days
=
Roland Nilsson
Sweden
UEFA
116
1 May 1986
11 October 2000
14 years, 163 days
=
samuel Eto'o
Cameroon
CAF
116
9 March 1997
1 June 2014
17 years, 84 days
=
Sergio Ramos
Spain
UEFA
116
26 March 2005
7 June 2014
9 years, 73 days
=
DaMarcus Beasley
United States
CONCACAF
116
27 January 2001
8 June 2014
13 years, 132 days
108
Roberto Ayala
Argentina
CONMEBOL
115
16 November 1994
15 July 2007
12 years, 241 days
=
David Beckham
England
UEFA
115
1 September 1996
14 September 2009
13 years, 13 days
=
Stern John
Trinidad and Tobago
CONCACAF
115
15 February 1995
6 September 2011
16 years, 203 days
=
Noureddine Naybet
Morocco
CAF
115
9 August 1990
28 January 2006
15 years, 172 days
=
Gheorghe Popescu
Romania
UEFA
115
20 September 1988
29 March 2003
14 years, 190 days
=
José Manuel Rey
Venezuela
CONMEBOL
115
8 June 1997
6 September 2011
14 years, 90 days
=
Shunmugham Subramani
Singapore
AFC
115
27 June 1996
4 February 2007
10 years, 222 days
=
Kristen Viikman
Estonia
UEFA
115
26 January 1997
3 June 2013
16 years, 128 days
=
Paulo da Silva
Paraguay
CONMEBOL
115
27 July 2000
11 October 2013
13 years, 76 days
117
Bjorn Nordqvist
Sweden
UEFA
114
4 May 1963
4 October 1978
15 years, 153 days
=
Wael Gomaa
Egypt
CAF
114
26 April 2001
15 October 2013
12 years, 172 days
=
Shahril Ishak
Singapore
AFC
114
4 March 2003
4 February 2014
10 years, 337 days
=
Lukas Podolski
Germany
UEFA
114
6 June 2004
6 June 2014
10 years, 0 days
121
Nashat Akram
Iraq
AFC
113
5 October 2001
4 June 2013
11 years, 242 days
=
Carmel Busuttil
Malta
UEFA
113*
5 June 1982
25 April 2001
18 years, 324 days
=
Rolando Fonseca
Costa Rica
CONCACAF
113*
27 May 1992
26 March 2011
18 years, 303 days
=
viktor Onopko[1]
CIS
Russia
UEFA
113
29 April 1992
18 August 2004
12 years, 111 days
=
Theodore Whitmore
Jamaica
CONCACAF
113
7 November 1993
17 November 2004
11 years, 10 days
=
Yenier Márquez
Cuba
CONCACAF
113
7 May 2000
20 July 2013
13 years, 74 days
=
Raio Piiroja
Estonia
UEFA
113
21 November 1998
11 October 2013
14 years, 324 days
=
juris laizāns
Latvia
UEFA
113
14 October 1999
15 November 2013
14 years, 32 days
=
Andreas Isaksson
Sweden
UEFA
113
3 March 2002
1 June 2014
12 years, 90 days
=
Darijo Srna
Croatia
UEFA
113
20 November 2002
7 June 2014
11 years, 199 days
131
Zuhair Bakhit
United Arab Emirates
AFC
112
23 January 1988
16 December 2002
14 years, 327 days
=
Frank de Boer
Netherlands
UEFA
112
26 September 1990
26 June 2004
13 years, 274 days
=
Alain Geiger
Switzerland
UEFA
112
19 November 1980
8 June 1996
15 years, 202 days
=
Abdulsalam Jumaa Al Junaibi
United Arab Emirates
AFC
112
18 March 1997
6 January 2010
12 years, 294 days
=
Li Weifeng
China PR
AFC
112
22 November 1998
15 November 2011
12 years, 358 days
=
Hawar Mulla Mohammed
Iraq
AFC
112
5 October 2001
12 June 2012
10 years, 251 days
=
Claudio Reyna
United States
CONCACAF
112*
15 January 1994
22 June 2006
12 years, 158 days
=
Abdel-Zaher El-Saqua
Egypt
CAF
112
1 September 1997
20 January 2010
12 years, 141 days
=
Hakan Sükür
Turkey
UEFA
112
25 March 1992
17 October 2007
15 years, 206 days
=
Jon Dahl Tomasson
Denmark
UEFA
112
29 March 1997
24 June 2010
13 years, 362 days
=
Dino Zoff
Italy
UEFA
112
20 April 1968
29 May 1983
15 years, 39 days
=
Mario Frick
Liechtenstein
UEFA
112
26 October 1993
19 November 2013
20 years, 24 days
=
Martin Stocklasa
Liechtenstein
UEFA
112
31 August 1996
19 November 2013
17 years, 80 days
144
Andriy Shevchenko
Ukraine
UEFA
111
25 March 1995
19 June 2012
17 years, 86 days
=
Carlos Valderrama
Colombia
CONMEBOL
111
27 October 1985
26 June 1998
12 years, 242 days
=
stipe Pletikosa
Croatia
UEFA
111
10 February 1999
7 June 2014
15 years, 117 days
=
Kostas Katsouranis
Greece
UEFA
111
13 August 2003
7 June 2014
10 years, 298 days
=
Steven Gerrard
England
UEFA
111
31 May 2000
7 June 2014
14 years, 7 days
149
Carlos Bocanegra
United States
CONCACAF
110
9 December 2001
14 November 2012
10 years, 341 days
=
Paul Caligiuri
United States
CONCACAF
110
9 October 1984
16 November 1997
13 years, 38 days
=
Fernando Couto
Portugal
UEFA
110
19 December 1990
8 June 2005
14 years, 171 days
=
Diego Forlan
Uruguay
CONMEBOL
110
27 March 2002
4 June 2014
12 years, 69 days
=
Carlos Gamarra
Paraguay
CONMEBOL
110
3 March 1993
7 October 2006
13 years, 218 days
=
Kevin Kilbane
Republic of Ireland
UEFA
110
6 September 1997
12 October 2010
13 years, 36 days
=
Mehdi Mahdavikia
Iran
AFC
110
5 December 1996
17 June 2009
12 years, 194 days
=
Hassan Mudhafar
Oman
AFC
110
3 March 2003
19 November 2013
10 years, 261 days
=
Yuji Nakazawa
Japan
AFC
110
8 September 1999
4 September 2010
14 years, 69 days
=
John Arne Riise
Norway
UEFA
110
31 January 2000
22 March 2013
13 years, 50 days
=
Nader El-Sayed
Egypt
CAF
110
8 September 1992
19 June 2005
12 years, 284 days
=
Mauricio Solis
Costa Rica
CONCACAF
110
23 September 1993
20 June 2006
12 years, 270 days
=
Indra Sahdan Daud
Singapore
AFC
110
26 April 1997
14 August 2013
16 years, 110 days
=
Cristiano Ronaldo
Portugal
UEFA
110
20 August 2003
5 March 2014
10 years, 197 days
=
Kim Kallstrom
Sweden
UEFA
110
1 February 2001
1 June 2014
13 years, 120 days
=
Xabi Alonso
Spain
UEFA
110
30 April 2003
7 June 2014
11 years, 38 days
=
Edison Mendez
Ecuador
CONMEBOL
110
8 March 2000
4 June 2014
14 years, 88 days
166
Alex Aguinaga
Ecuador
CONMEBOL
109
5 March 1987
13 July 2004
17 years, 130 days
=
Niclas Alexandersson
Sweden
UEFA
109
10 November 1993
10 June 2008
14 years, 213 days
=
Alberto Garcia Aspe
Mexico
CONCACAF
109
26 April 1988
17 June 2002
14 years, 52 days
=
Nohair Al-Shammari
Kuwait
AFC
109
27 June 1996
14 January 2009
12 years, 201 days
=
Hao Haidong
China PR
AFC
109
22 August 1992
17 November 2004
12 years, 87 days
=
Andrea Pirlo
Italy
UEFA
109
6 November 2002
4 June 2014
11 years, 210 days
=
Mark Schwarzer
Australia
OFC/AFC
109
15 August 1993
8 September 2013
20 years, 24 days
=
Timur Kapadze
Uzbekistan
AFC
109
14 May 2002
15 October 2013
11 years, 154 days
=
Rafael van der Vaart
Netherlands
UEFA
109
6 October 2001
19 November 2013
12 years, 44 days
175
Thomas Helveg
Denmark
UEFA
108*
20 April 1994
17 October 2007
13 years, 180 days
=
Jürgen Klinsmann
West Germany
Germany
UEFA
108
12 December 1987
4 July 1998
10 years, 204 days
=
Bobby Moore
England
UEFA
108
20 May 1962
14 November 1973
11 years, 178 days
=
Jamal Mubarak
Kuwait
AFC
108
13 November 1994
10 January 2004
9 years, 58 days
=
Zinedine Zidane
France
UEFA
108
17 August 1994
9 July 2006
11 years, 326 days
180
Baichung Bhutia
India
AFC
107
10 March 1995
18 January 2011
15 years, 314 days
=
Ashley Cole
England
UEFA
107
28 March 2001
5 March 2014
12 years, 342 days
=
Ahmed El-Kass
Egypt
CAF
107
4 April 1987
6 April 1997
10 years, 2 days
=
Miroslav Karhan
Slovakia
UEFA
107
6 September 1995
6 September 2011
16 years, 0 days
=
Aaron Mokoena
South Africa
CAF
107
20 February 1999
10 October 2010
11 years, 232 days
=
Patrick Vieira
France
UEFA
107
26 February 1997
2 June 2009
12 years, 96 days
=
Fernando Torres
Spain
UEFA
107
6 September 2003
30 May 2014
10 years, 266 days
=
Kolo Toure
Ivory Coast
CAF
107
4 April 2000
23 March 2013
12 years, 353 days
188
Imants Bleidelis
Latvia
UEFA
106
19 May 1995
21 November 2007
12 years, 186 days
=
Bobby Charlton
England
UEFA
106
19 April 1958
14 June 1970
12 years, 56 days
=
Fan Zhiyi
China PR
AFC
106
22 August 1992
4 June 2002
9 years, 286 days
=
Henrik Larsson
Sweden
UEFA
106
13 October 1993
6 June 2009
15 years, 236 days
=
Muhsin Musabah
United Arab Emirates
AFC
106
17 March 1988
27 August 1999
11 years, 163 days
=
Stiliyan Petrov
Bulgaria
UEFA
106
13 December 1998
11 October 2011
12 years, 302 days
=
Guillermo Ramirez
Guatemala
CONCACAF
106
16 April 1997
26 May 2012
15 years, 40 days
=
Diego Pablo Simeone
Argentina
CONMEBOL
106
14 July 1988
7 June 2002
13 years, 328 days
=
Giovanni van Bronckhorst
Netherlands
UEFA
106
31 August 1996
6 July 2010
13 years, 309 days
=
Petr Cech
Czech Republic
UEFA
106
12 February 2002
15 November 2013
11 years, 276 days
=
Eric Wynalda
United States
CONCACAF
106
2 February 1990
19 February 2000
10 years, 17 days
=
Joseph Musonda
Zambia
CAF
106
6 July 2002
7 June 2014
11 years, 336 days
=
Philip Lahm
Germany
UEFA
106
18 February 2004
6 June 2014
10 years, 108 days
201
Hector Chumpitaz
Peru
CONMEBOL
105
3 April 1965
6 September 1981
16 years, 156 days
=
sami Hyypiä
Finland
UEFA
105
7 December 1992
12 October 2010
17 years, 339 days
=
Radhi Jaïdi
Tunisia
CAF
105
2 June 1996
6 June 2009
13 years, 4 days
=
Jonatan Johansson
Finland
UEFA
105
16 March 1996
7 September 2010
14 years, 175 days
=
Jürgen Kohler
West Germany
Germany
UEFA
105
24 September 1986
4 July 1998
11 years, 283 days
=
Pike
Brazil
CONMEBOL
105
15 November 2000
5 September 2011
10 years, 294 days
=
Billy Wright
England
UEFA
105
28 September 1946
28 May 1959
12 years, 242 days
=
Peter Jehle
Liechtenstein
UEFA
105
14 October 1998
19 November 2013
15 years, 36 days
=
Josip Simunic
Croatia
UEFA
105
10 November 2001
19 November 2013
12 years, 9 days
=
Frank Lampard
England
UEFA
105
10 October 1999
7 June 2014
14 years, 240 days
=
Clint Dempsey
United States
CONCACAF
105
17 November 2004
8 June 2014
9 years, 203 days
213
baihakki khaizan
Singapore
AFC
104
4 August 2003
4 February 2014
10 years, 184 days
=
Gustavo Cabrera
Guatemala
CONCACAF
104
19 May 2000
16 October 2012
12 years, 150 days
=
Kim Tae-Young
South Korea
AFC
104
21 October 1992
19 July 2004
11 years, 272 days
=
Runar Kristinsson
Iceland
UEFA
104
28 October 1987
18 August 2004
16 years, 295 days
=
Michael Laudrup
Denmark
UEFA
104
15 June 1982
3 July 1998
16 years, 18 days
=
Carlos Ruiz
Guatemala
CONCACAF
104
8 November 1998
16 October 2012
13 years, 343 days
=
Thorbjørn Svenssen
Norway
UEFA
104
11 June 1947
16 May 1962
14 years, 339 days
=
mihails zemļinskis
Latvia
UEFA
104
8 April 1992
8 September 2005
13 years, 153 days
=
Andrés Guardado
Mexico
CONCACAF
104
14 December 2005
7 June 2014
8 years, 175 days
=
Maynor Figueroa
Honduras
CONCACAF
104
15 February 2003
7 June 2014
11 years, 112 days
222
Franz Beckenbauer
West Germany
UEFA
103
26 September 1965
23 February 1977
11 years, 150 days
=
Joe Brincat
Malta
UEFA
103*
14 October 1987
14 February 2004
16 years, 123 days
=
Stéphane Chapuisat
Switzerland
UEFA
103
21 June 1989
17 June 2004
14 years, 362 days
=
Didier Deschamps
France
UEFA
103
29 April 1989
2 September 2000
11 years, 126 days
=
Andreas Herzog
Austria
UEFA
103
6 April 1988
30 April 2003
15 years, 24 days
=
Hwang Sun-Hong
South Korea
AFC
103
6 December 1988
20 November 2002
13 years, 349 days
=
Amer Shafi
Jordan
AFC
103
17 August 2002
15 October 2013
11 years, 59 days
=
Emad Mohammed
Iraq
AFC
103
12 November 2000
15 November 2011
11 years, 3 days
=
Dejan Stankovic
Yugoslavia
Serbia and Montenegro
Serbia
UEFA
103
9 April 1998
11 October 2013
15 years, 185 days
=
Maris Verpakovskis
Latvia
UEFA
103
9 September 1999
15 November 2013
14 years, 67 days
=
Justo Villar
Paraguay
CONMEBOL
103
3 March 1999
11 October 2013
14 years, 226 days
=
Indrek Zelinski
Estonia
UEFA
103
7 May 1994
21 May 2010
16 years, 14 days
=
Enar Jääger
Estonia
UEFA
103*
12 October 2002
7 June 2014
11 years, 238 days
235
Marvin Andrews
Trinidad and Tobago
CONCACAF
102
21 March 1996
5 September 2009
13 years, 168 days
=
László Bölöni
Romania
UEFA
102*
24 September 1975
1 June 1988
12 years, 251 days
=
Kenny Dalglish
Scotland
UEFA
102
10 November 1971
12 November 1986
15 years, 2 days
=
Ulises de la Cruz
Ecuador
CONMEBOL
102
28 May 1995
16 May 2010
14 years, 353 days
=
Martin Jorgensen
Denmark
UEFA
102
25 March 1998
14 November 2011
13 years, 234 days
=
Kasey Keller
United States
CONCACAF
102
4 February 1990
2 July 2007
17 years, 148 days
=
Bulent Korkmaz
Turkey
UEFA
102
17 October 1990
17 August 2005
14 years, 304 days
=
Alyaksandr Kulchy
Belarus
UEFA
102
14 February 1996
16 October 2012
16 years, 245 days
=
Michael Mifsud
Malta
UEFA
102
10 February 2000
19 November 2013
13 years, 282 days
=
Borislav Mikhailov
Bulgaria
UEFA
102
May 4, 1983
5 July 1998
15 years, 62 days
=
Savo Milosevic
Yugoslavia
Serbia and Montenegro
Serbia
UEFA
102
23 December 1994
19 November 2008
13 years, 332 days
=
Ioannis Okkas
Cyprus
UEFA
102
16 July 1997
11 October 2011
14 years, 106 days
=
Mohamed Omar
United Arab Emirates
AFC
102
14 August 1996
28 January 2009
12 years, 167 days
=
Raul
Spain
UEFA
102
9 October 1996
6 September 2006
9 years, 332 days
=
Ali Rehema
Iraq
AFC
102
8 June 2005
19 November 2013
8 years, 164 days
=
Steve Staunton
Republic of Ireland
UEFA
102
19 October 1988
16 June 2002
13 years, 240 days
=
Michal Zewlakow
Poland
UEFA
102
19 June 1999
29 March 2011
11 years, 283 days
=
Bastian Schweinsteiger
Germany
UEFA
102
6 June 2004
6 June 2014
10 years, 0 days
253
Leonel Alvarez
Colombia
CONMEBOL
101
14 February 1985
7 September 1997
12 years, 205 days
=
Lakhdar Belloumi
Algeria
CAF
101*
28 September 1978
22 December 1989
11 years, 85 days
=
oleg Blokhin
Soviet Union
UEFA
101
16 July 1972
21 September 1988
16 years, 67 days
=
József Bozsik
Hungary
UEFA
101*
17 August 1947
18 April 1962
14 years, 244 days
=
Phillip Cocu
Netherlands
UEFA
101
24 April 1995
25 June 2006
11 years, 62 days
=
Thomas Hassler
West Germany
Germany
UEFA
101
31 August 1988
20 June 2000
11 years, 294 days
=
Carlos Pavon
Honduras
CONCACAF
101
17 July 1993
16 June 2010
16 years, 334 days
=
Ahmed Shobair
Egypt
CAF
101
18 December 1984
8 November 1996
11 years, 326 days
=
Thomas Sorensen
Denmark
UEFA
101
18 November 1999
29 February 2012
12 years, 103 days
=
Jorge Soto
Peru
CONMEBOL
101
24 November 1992
12 October 2005
12 years, 322 days
=
Earnie Stewart
United States
CONCACAF
101
19 December 1990
18 August 2004
13 years, 243 days
=
Claudio Taffarel
Brazil
CONMEBOL
101
20 September 1988
12 July 1998
9 years, 295 days
=
Elijah Tana
Zambia
CAF
101
10 June 1995
27 January 2009
13 years, 231 days
=
Harold Wallace
Costa Rica
CONCACAF
101
27 September 1995
12 August 2009
13 years, 319 days
=
Ahmed Fathy
Egypt
CAF
101
16 December 2002
31 May 2014
11 years, 166 days
=
Didier drogba
Ivory Coast
CAF
101
8 September 2002
5 June 2014
11 years, 270 days
268
Mohamed Aboutrika
Egypt
CAF
100
11 March 2001
19 November 2013
12 years, 253 days
=
Roberto Acuña
Paraguay
CONMEBOL
100
10 June 1993
11 June 2011
18 years, 1 day
=
Angelos Basinas
Greece
UEFA
100
18 August 1999
1 April 2009
9 years, 226 days
=
Henning Berg
Norway
UEFA
100
13 May 1992
27 May 2004
12 years, 14 days
=
Denis Caniza
Paraguay
CONMEBOL
100
10 November 1996
7 September 2010
13 years, 301 days
=
Luis Capurro
Ecuador
CONMEBOL
100
6 February 1985
9 February 2003
18 years, 3 days
=
Damien Duff
Republic of Ireland
UEFA
100
25 March 1998
18 June 2012
14 years, 85 days
=
Tim Howard
United States
CONCACAF
100
10 March 2002
8 June 2014
12 years, 90 days
=
Ulf Kirsten[2]
East Germany
Germany
UEFA
100
8 May 1985
20 June 2000
15 years, 43 days
=
Levan Kobiashvili
Georgia
UEFA
100
1 September 1996
11 October 2011
15 years, 40 days
=
Ismail Matar
United Arab Emirates
AFC
100
7 April 2003
19 November 2013
10 years, 226 days
=
Tony Meola
United States
CONCACAF
100
10 June 1988
11 April 2006
17 years, 305 days
=
Joe-Max Moore
United States
CONCACAF
100
3 September 1992
14 June 2002
9 years, 284 days
=
Nazri Nasir
Singapore
AFC
100
13 September 1990
12 July 2004
13 years, 303 days
=
Park Ji-Sung
South Korea
AFC
100
5 April 2000
25 January 2011
10 years, 295 days
=
Carles Puyol
Spain
UEFA
100
15 November 2000
6 February 2013
12 years, 83 days
=
Goce Sedloski
Macedonia
UEFA
100
26 March 1996
29 May 2010
14 years, 64 days
=
Dario Simic
Croatia
UEFA
100
13 March 1996
20 August 2008
12 years, 160 days
=
Igors Stepanovs
Latvia
UEFA
100
26 April 1995
10 August 2011
16 years, 106 days
=
Gabriel Gómez
Panama
CONCACAF
100
15 January 2003
3 June 2014
11 years, 139 days