Pavel Nedved, the best player in the history of the Czech Republic
Pavel Nedved is the best player in the history of the Czech Republic and one of the best midfielders which has given football in recent decades. He played for Lazio and Sparta Prague but highlighted in the ranks of Juventus, where he developed almost his entire career and managed to reach the top of his career by winning even a Golden Ball.
The Czech star that shone in Italy
Born in the former Czechoslovakia in 1972, He played for Sparta Prague between 1992 Y 1996, where he scored 28 goals in 117 official matches. His good seasons, coupled with their outstanding performances in European competitions all the time (Recopa, UEFA and European Cup) in which he participated defending the jersey of Czech club, They won him to sign for Lazio of Rome which came in the summer of 1996, even breaking an agreement that bound him to PSV. Dutch box btw, He highlighted in the 90's as a great discoverer of young and unknown talent. Including Romario and Ronaldo few such among others.
Juventus became the leader at the beginning of the 21st century
He stayed for five seasons "Eternal City", playing in 207 Sometimes as a player from Lazio,marking 51 goals in official match with the Roman club. With its many kilates football and his arrival at Goal, He caught the attention of clubs from all over Europe, although it remained until the beginning of the new century. In 2001, millionaire after signing of Zinedine Zidane by Real Madrid, the sports management of "Old lady" He noticed him as a substitute for French genius. The decision could not be more successful.
He arrived in Turin 2001 with 29 years and retired eight years later, in 2009 and to turn 37 years. With the black and white shirt of Juve reached as high a player can achieve individually and football player, precious and coveted Golden Ball. It was in 2003 after completing a wonderful season that could not be topped off with a Champions League title since the Juve fell in the penalty shootout against AC Milan in the Italian Carlo Ancelotti final at Old Trafford in May of that same year. Final that Nedved himself could not play through suspension.
He stayed at Juventus after relegation administrative
During his playing Juventus, He also lived the most bitter face of football with the descent of the historic Italian club to Serie B for reasons extrasport. Nevertheless, Czech, He remained on the team despite falling alongside other world-class cracks and flagships team as Alessandro Del Piero and Buffon. Finally, He was removed in 2009 with 327 official matches with Juve and 65 goals.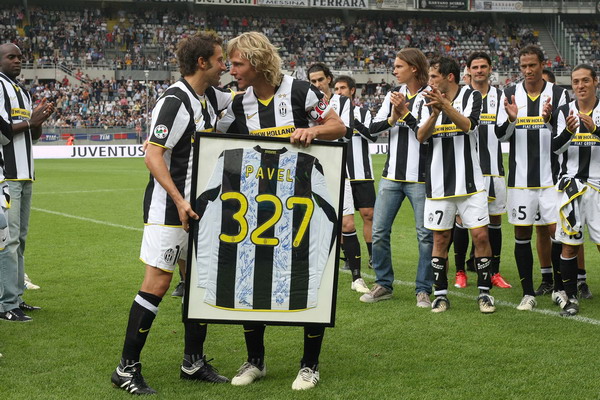 Pavel Nedved, the Patrick Swayze of football
With your selection, Czech Republic, He participated in three European Championships (1996, 2000 Y 2004) and the World Cup in 2006. Juice 91 parties marking 18 goals. Talented player, He is the best player in the history of his country and won numerous individual and collective titles at the three teams where he played professionally. After his retirement, He finished entering as a manager of Juventus, the club where he gave the best years of his career. As a curiosity, Nedved, It was known as the "Patrick Swayze" soccer by its more than reasonable resemblance to the late actor "Dirty Dancing" O "Ghost". Viewing the image, judge for yourself.
What it was Pavel Nedved after leaving football?
In 2010, Pavel Nedved came on the board of Juventus and 2015 He was named vice president of the Italian bank thus changing the black and white shirt and boots for the suit and tie.