Acabada la primera jornada de la Champions llega el turno de la Europa League, competition where three Spanish teams play their matches today. The Atletico Madrid, Reigning champion recent tournament and the European Super Cup, llega como el máximo favorito para reeditar el titulo. El equipo madrileño, debuta en Israel contra el Hapoel. Para este partido, Simeone ha optado por las
rotaciones, dejando en casa a la estrella de su equipo, el goleador colombiano Radamel Falcao que pasa por un momento de forma excelente. El Atlético parte como claro favorito para llevarse el partido en Israel pero no debería de relajarse.
The Levante, equipo revelación de la Liga BBVA la temporada pasada, debuta por primera vez en sus 103 años de historia en la Europa League. De la mano de Ballesteros y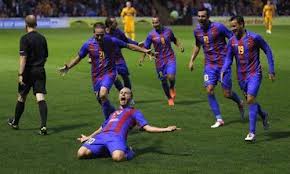 Juanfran, el equipo que dirige JIM recibe a los suecos del Helsinborgs IF en el estadio Ciutat de Valencia. El preparador granota, introducirá cambios pero sin hacer ninguna revolución. JIM no podrá contar con Ofabemi Martins, fichaje estrella del conjunto granota pero que no llegó a tiempo para ser inscrito en la competición europea, después de un largo culebron por su fichaje. La responsabilidad anotadora volverá a recaer sobre el griego Gekas que ya marcó ante el Motherwell en la previa europea.
Meanwhile, the Athletic Bilbao recibirá al también israelí Hapoel Kyrat Shmona, campeón israelí pero que no debería de suponer ningún peligro para el equipo del "Loco Bielsa". El morbo, en la vuelta del fútbol continental a San Mamés, lo pondrá la vuelta de Fernando
Llorente tras haberse quedado al final en el equipo. The "Lion King" volverá a pisar el césped de La Catedral después de que recibiese pitidos aislados en el partido de la primera ronda para acceder a la fase de grupos de la Europa League. Los partidos comenzaran a las 21:05, en ese momento el balón echara a rodar, dando comienzo oficialmente a la nueva temporada de la Europa League.