interview Colgados: Antonio Reguero, one of the best goalkeepers in the Scottish championship
Antonio is the goalkeeper Kilmarnock. At 31 years, Madrid was one of the sensations of last season in the Scottish Premier League. The former Real Madrid C, Villarreal B, CF Alicante, Mazarron CF, UD Lanzarote, Racing de Ferrol, CF Gandía Inverness Caledonian Thistle FC He is living his dream of playing in First. Today in "Hanged", we go to Kilmarnock and interviewed for the first time a goalkeeper, Antonio Reguero.
Colgados: Hello Antonio, first congratulate you on your career in Scotland, You take nearly two years. What live there?
It is an enriching experience, at first much change, the weather, language, the family.
C: Kilmarnock is a very small town south of Glasgow, What you can do Kilmarnock?, What does Antonio Reguero when not playing football?
Do not live in Kilmarnock ... I'm seeing in Glasgow and trained at the University. I'm just going to Kilmarnock when party. Inverness everything was different, He lived in the city and had more contact with fans. In my free time studying English, I want to remove my First Certificate, I'm also getting the title of coach to coach goalkeepers. My girlfriend also lives in Scotland, so I do not have much time to be bored.
C: When you came to Scotland, the country where the sun rises, How did you live those early days?
Not speak English, It was a little confusing the first two months but the enthusiasm and excitement out of Spain is carried forward all the bad things. From the second month I started to play first and that helped my adaptation was faster.
C: On the Scottish fans, Are the stadiums are filled?, How is the hobby of Kilmarnock?
Kilmarnock hobby is very noisy but they seem to have a problem with President. In a game they took a red card that could be read "We want Jhonston out". It seems to be finished selling the club. Usually they attend a 5000 O 6000 aficionados. Not living here do not have much contact with the fan, quite the opposite in Inverness. The Scottish fans are very respectful. I was pleasantly surprised at Scottish character.
C: In your first year you were one of the sensations of the Scottish championship, This year your participation has fallen to competition with Craig Samson. What do you expect from this new season?
I would go back to January 2013 when he contacted me Kenny Shiels. He was the one who signed me but was sacked by the club following a statement before I arrived. Inverness renew she offered me but I accepted the offer because it was better Kilmarnock. In summer they signed Craig Samson, goalkeeper who is among the best in Scotland. Borja Perez also spoke highly of club. I have not played a game this season in the Premier, If the reserve league and I'm happy with my performances. I talked to my coach to ask for an opportunity, He passed me he was happy with me and denied the possibility of leaving in the winter. Samson y Allan Jhonston (Kilmarnock coach) They are known for years, can this affect my situation. In addition this clashes with the path that has had the team that has not been good.
C: With the latest win against Ross County team drop out after a start full of doubts. What purpose will this season Marçais?
A historic club should choose the Top-6. There is good team player by player, we lack a little sparkle. The goal is to escape from the relegation zone, There are many Christmas parties and is a good opportunity to keep climbing in the rankings.
C: What are your plans for next season?
I have one more year of contract here. Never know, Spain again I see it difficult. I would like to stay in Scotland but playing. I do not rule go to another league, I'm adventurous.
C: Del Nido has made headlines in recent days said that the Spanish League is like the Scottish Premier. What do you think about this comment?
Compare the two championships it does not make sense but competitiveness has fallen sharply. I am surprised by the mass exodus of Spanish players, perhaps influence the situation in the country, the case is that it is a monologue of Real Madrid and Barca, although Atletico is there and is also a source of pride for me, I played there when I was a child, but I do not think the pace and stamina has already said the Cholo Simeone.
C: Celtic Glasgow is the best team in Scotland, undisputed leader. What is special about this team?
Celtic will take Street League. There's a lot of difference to the rest. Although I went to see them at Celtic Park every game of the first phase of Champions and has been a bit disappointing.
C: Is Celtic Park the best field in which you played?, What did you feel at the beginning of the game when you heard the "You´ll never walk alone"?
I was the only visiting goalkeeper did not receive a goal last season at Celtic Park, won over 0-1. A ambientazo with 55.000 people singing the "You'll never walk alone". Cup was different, we lost 4-1. Also at Ibrox Park there is a great atmosphere, I remember the knockout Cup in which we beat Rangers 0-3. Play in either of these two fields is special, He has always been with me a friend in the stands.
C: The Inverness Caledonian Thistle FC began the season as leader, in fact we reflect on "Hanged" as one of the surprise European football. Currently they are second, What chance do you think has the Inverness?
They have low coach Terry Butcher who has gone to Hibernian but it is a team that has three or four seasons playing together. They started very strong league but are now having a little letdown. They are very close to Dundee, a team that is playing at a high level. Between Dundee and Inverness second place in the Premier will be played.
C: Seeing them in such a high position (Inverness) and regularity you had last season, Do you regret having left the team?
You never know what would have happened, Imagine that I stay and I injured. This kind of decision no regret. I do not like to speculate what would have happened. I do not regret the decision.
C: What differences do you see between Scottish football and Spanish football?
Mainly it's the deal of the ball, Here football is more physical than in Spain. In the league there are a lot of quality. It strikes me dishes that get under his belt Scots. I understand how the days of double sessions can not train in the afternoon with so much food in the body. Although the food we eat is healthy, fruit, vegetable, Fish varied diet .... I try to take care of myself in that aspect.
C: Scotland will not be at the World Cup in Brazil, in fact it is not classified from France 98. With most players in the English Premier, Scottish fans are a little disappointed. What room for improvement is there football?, Do you think we'll see Scotland in a World Cup short-medium term?
Good question. The 80% Scottish players playing out of here, most in the Premier. They should take care from the base over the ball touch. They beat Croatia is a World Cup team and I think they can play a World. On the other hand the conformist mentality that have, something that goes with the Scottish character. I think it should be more ambitious.
C: Besides Boyd, your classmate, veteran and top scorer in the history of the Premier, Will we could say two or three young players to consider in Scottish football?. Any future crack?
Ryan Gauld has 18 years and plays in Dundee, a player who has followed the Real Madrid who wanted to Castilla, It has an air Bojan. I have had the opportunity to play against him, is very good. In addition to the Kilmarnock is a small and very fast player that if you give continuity is very good player, It called Chris Johnston and has 19 years. James Forrest also highlight Celtic.
C: With 31 years are a veteran, I guess that will keep many memories. What has been your best and worst experience throughout your career?
The 10 years spent in the lower categories of Real Madrid. I got to make debut with the first team in Talavera, I played with the likes of Salgado, McManaman o Munitis, Vicente Del Bosque and also was the coach. It was after the ninth, precisely in Glasgow. They went on vacation or César Sánchez Casillas and could play (laughs). My worst experience are the summers do not know where you play, that uncertainty, at the phone to see if it sounds. Another bad experience was when I broke my 5th metatarsal.
C: Antonio Real Madrid lived a beautiful stage, You came to share a dressing room with Casillas. How do you see your team from a distance?
Ilusionado as many madridistas. I think this year we're going to compete at FC Barcelona which unfortunately, for Real Madrid, He has dominated in recent years. I do not care to admit it but it seems that this may be our year. Barcelona is not playing so well with Tata.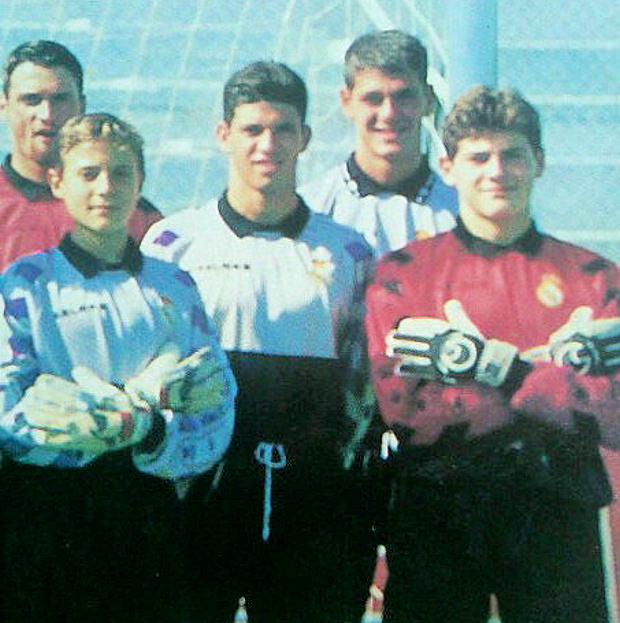 C: What do you think of the controversy with Casillas and Diego Lopez?
the difficult situation in which Diego Lopez comes must be taken into account, the games he played last year, Alternate coming from Sevilla. The solvency demonstrated by games at high level. Casillas is a great goalkeeper but Diego deserves to play, it is doing very well.
C: I suppose you to keep many memories in your career on all computers that you've played. Do you have any message for the fans of these teams?
I have wonderful memories of all the teams I've been. I've also been lucky enough to play in coastal teams, Alicante, Mazarrón, gandía, Lanzarote, Ferrol, Inverness even though the weather does not accompany.
C: Goalkeepers Valdés and some have talked about the loneliness of the job, hero or villain according to the party. Have you experienced that feeling?, To be goalkeeper was a choice for you?
The person who chooses to be a goalkeeper makes knowing that it is a complicated place. I train children and soil instill the kids who have to learn to live with loneliness, different dress shirt ... a goalkeeper can do very well during 90 minutes fail at the last minute but when you make a good match, that little suffering is worth.
C: You were a few months in the First Division Thailand. How was the experience?
Although you will not believe it is the best decision I ever made in my life. two Christmases ago I was in Gandia, a little saturated Spanish football, I needed a change of life. Some agents offered me to travel to Thailand to play in the Bangkok Glass but a problem with the quota of foreigners did not sign with that team. Then I went to Bangkok United, where I was training waiting for the team that militated in 2nd ascended, at the end they did and had no budget to sign me. Then I went to Hong Kong and I was watching a train Kitchee SC, computer that had enough Spanish, including Chino Losada. the experience was very good, I learned a lot, especially you buscármelas for myself, 6 months there have been about two years of life.
C: Who was your best coach or you remember most fondly?
All goalkeeper coaches I've had have been important and have learned from all of them. I would stay, I hope none were angry, Manuel Ameiro, Current goalkeeping coach of Spanish women of Spain. He trained every Wednesday and Thursday with all the goalkeepers Madrid, from fingerlings. He was promoted to the first team Del Bosque. I will also highlight Terry Butcher, a man calm during the week but I could go crazy at a party. I have come to see bottles or whiteboards in the air. A peculiar type, remembered for his bandage on a match between England and Argentina of Maradona.
C: The best player you've played is ...Billy McKay del Inverness, he scored a lot of goals last year and this course continues on a roll.
C: We cracking of sports programs in Spain on our website Colgados, only speak of Real Madrid and FC Barcelona. What do you think of Spanish sports journalism?, Do you see any program?
I do not like sensationalism, or type programs Save me but the audience sends. I do not like many lurid comments, they miss style programs The day after O study Stage.
C: Do you read Colgados?, What do you think about our website?
I promise I'll start following.
C: Let's ending. Who is for you the best player in football history?, And the best Spanish history?
Zidane and Raul Gonzalez Blanco.
C: Finally we want to get wet and give us forecasts to win the league, Champions, the World Cup and the SPL.
League (Spain): Real Madrid.
Champions League: Real Madrid ... although Bayern have a great team and the best coach in the world.
World Brazil 2014: Spain although it will be more complicated than ever.
Scottish Premier League: Celtic.
Thank you very much Antonio, you have much luck in Scotland and especially be in health, injuries respect you and make a great season in Kilmarnock. We sincerely hope that Allan Johnston a chance and you can debut with the team. Best wishes for 2014 since "Hanged".