Marisa Villa, new UEFA informer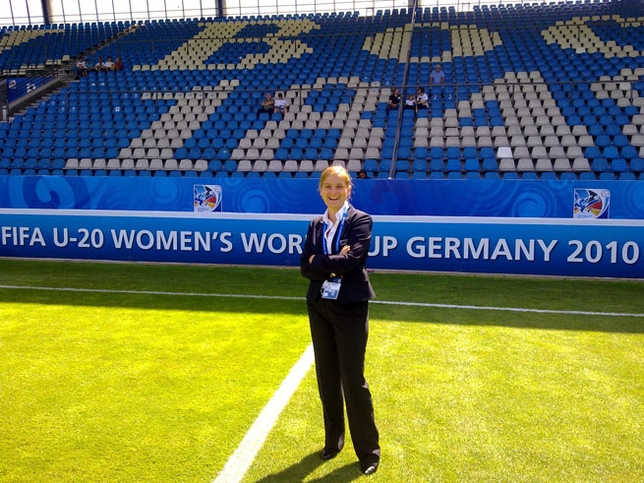 Barely a month ago, we mentioned in Colgados for soccer this woman. At the time it was the first to break down the walls of all categories of Spanish football and get to whistle in the elite. Today, continues to burn cartridges and rise exponentially. A few days ago she was appointed UEFA informant, so this season will evaluate the work of the referees, always with the aim of improving refereeing.
Clearly a whistle lover and by default of soccer, Marisa Villa Gutiérrez has always shown a special interest in continuing to be linked to this world. Since announcing his premature retirement, His objective was none other than to contribute his grain of sand to the evolution of refereeing in order to eradicate errors and improve from personal interpretation to the joint communication of the referees during the match.
Courage and experience are left over after staying at the foot of the canyon on the pitch for more than 13 years. All her good work and good work were rewarded by UEFA and Marisa made her debut as a referee consultant in the UEFA Women's Champions League, which was based in Croatia. There after watching the games several times, live and recorded, analyzed the most doubtful or compromised decisions with two arbitration quartets. Always by and for the improvement of refereeing with a single objective, look for the reason for the error and try as much as possible so that it does not happen again. After, I had to make a report from the referees and send it to UEFA.
She is not only a UEFA informant, Instead, he combines all these tasks with the UEFA Young Referees course, where she is an instructor and gives master classes, talks and conferences with those who will be the future of the arbitration world. It was precisely in one of these talks where he fell in love with UEFA and it decided that the next free place would be occupied by Marisa.
Adapt or die, people evolve and their lives undergo changes, it is necessary to know how to face and overcome them. This woman is an all-rounder and overcomes barriers like no one. His ascension has no ceiling and why not become a Match Referee Observer. Each challenge that is proposed surpasses it and at this step the objectives in the world of arbitration will soon run out.. Why not work for FIFA and become the first woman to do so?
It may interest you:
–Judith Romano, Referee League Two