"God" Armando Maradona, the best player in the history
"God" Armando Maradona it's legend. With his passing the 25 November 2020, the Fluff entered the Olympus of football. Born in 1960, the eternal '10' of Argentina died at 60 years, was and is for many, the best soccer player ever. Above anyone.
Maradona, the immortal kid
"My story began with the ball soon. I was born 30 October 1960, but with just 6 O 7 years I already played with a team in my neighborhood of Villa Fiorito called las "you Canchitas", in Greater Buenos Aires. People told me that it was good then. And I certainly can not give bad. I threw all day playing with the happy little ball and came home even climbing the stairs at the same time made me touch on the ball.
At the insistence of the people, with 9 years pointed me to a trial Argentino Juniors. Was very young, What the fuck! but I liked football, much, much. They caught me and I played there a few tournaments with Cebollitas, that was what they called those born in the year 60 of that team. Coach, Fernando Cornejo taught me pretty. That was crazy. We were near 136 games unbeaten and even, I went in with just Clarin 11 years. How good was that! I did so well, sometimes they called me to help youth team. I had to lie about my age to play. How great it was.!
Slowly, the truth is that this was liking me as more and more had more progression. Tanta, that fijate what are the things, I had not met 16, When I had the fortune to debut in First. It was against Talleres, I will never forget. We lost 1-0, between the second half with the number 16 replacing Giacobetti. I was very nervous, while on my first run I made a pipe a rival. It was not my intention, but when I got nervous, only made things. When I came home and saw, I thought I was dreaming.
It took me a month to score the first goal in the first, He went to San Lorenzo de Mar de Plata. Things were going well, I was lucky to debut, back in 1977, with the "albiceleste" in a friendly with Hungary in the Bombonera. It was important, because there was a year to the World held and I was excited to debut in a World Cup, and more in your country. Finally, Cesar Luis Menotti, It did not take me to the World. He said he was very young. The truth, I'll never forgive. What a shame not to lift the cup with your country!
Anyway, I can not complain about those years. At 79, won the World Youth Cup with choice plus, I was named best player of the tournament. And Argentino Juniors, got goals from all sides. I remember what I liked to throw faults, gambetear, I tried to score a goal from midfield and I went in Misiones. Tremendous. further, the team had certain privileges when to train and concentrate. I did not like much these stories.
At 81 I joined Boca Juniors. I wanted many teams, including River, but it was clear that the "millionaires" I was not drunk or. With the "xeneizes" the thing was positive. I made my debut again against Talleres; This time we won 4-1 with two goals mine. The first derby against River, It was milk. We won 3-0, and I got an incredible goal. I did a good job with Boca, hurt only we win a title.
At 82, World and this time he played, I was not going to miss. Would miss more. I went to the club after the World Cup and wanted to do well there. I not shine much truth. We move to the second phase, but in the second we lost against Italy and Brazil, the latter party in the end expelled. The truth, It is that I did not very well, but they kicked me all the sides.
In Barcelona I started badly because of a hepatitis. Goodness, at least in the first season won two titles: the Spanish Cup and League Cup. In this last competition I remember the goal at the Bernabeu. It was so good, that even the audience applauded me. I liked to get the ball into the goal.
My second and final season at the club was worse. I started out over holiday, to take things that I should not. further, I remember an awful tackle from Goikoetxea that injured my left ankle several months. And if that was not enough, we had one tangana with Athletic in the Cup final at the Bernabeu for which they sanctioned me for several months. It was terrible that year.
So I decided to go to the Italian Naples. Thence, memory San Paolo full the day of my presentation. The first two years were Touchdown. Calcium is very physical, so I had to learn to overcome the Italian defense. The best of my second year, It was the end: the Mexico World Cup 86. He had spent three years outside the selection and was keen to return. further, Bilardo had made me captain.
We began serving until they reached the quarter. There, we played England; you earn them had after the Falklands. And what I do that I may avenge me. We won 2-1 and I put them two goals. With them First Time, Top with hand. But it was not me, was God, I told the English.!. The second I do not remember very well. I think I bargained whole team, but I remember very well how. I was told I had scored the goal of the century, but it remains to be seen again, because I do not think it's for both.
Belgium and Germany then took me to lift the World Cup champion. Yes that was good. They made fun of me saying that I had won myself the world, but it was not. It was Valdano, Burruchaga…
After the World, Naples again. Now that we got. Among Bald, Giordano and I won two Serie A titles and UEFA. We called the trio " Magica". further, front we had a formidable team: Milan, those kids if they were good. And if that was not enough, were runners-up in the World Cup 90. Why is, memory, Pumpido's sung in the opening game against Cameroon, victory to Brazil in the second round, or my failed launch against Yugoslavia in the penalty shootout.
Goodness, that we had Goico, a parapenaltis who peed in each batch as a ritual, who saved us against Italy in the semis in another round. Too bad the Germans take revenge from us in the end.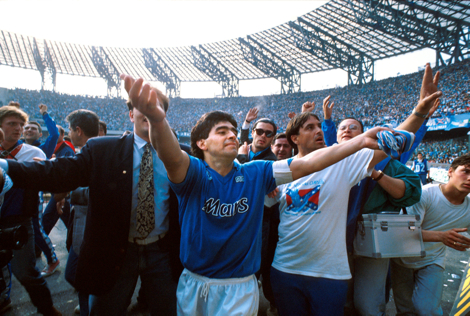 In 1991 things got complicated. I tested positive for cocaine and they sanctioned me for 15 months, so I decided to return to Argentina to rest. When I served the sanction I went to Seville, there had Bilardo. I did not do much, but I remember some touches with a silver foil ball that at least entertained Sánchez Pizjuán.
At 93 I missed my home, so I returned to Argentina to play in Newell's Old Boys. People came to see me, but he had problems with the coach and journalists, that they demanded a lot of me. In fact, I got amenzar some reporters with an air rifle that almost cost me to go to prison.
However, I got to go to the World Cup USA 94. There's shat. Greece beat 4-0 in the first game, where he also managed to score a goal, but against Nigeria I gave again positive. The truth is that only cut the legs because I took something for a flu that had Morrocotudo. A nice… From here and I wandered until I retire my mouth in a derby against River the 30 October 1997, just the day of my birthday.
In any case, the truth is that I had fun playing football, only after coach, where I became coach of the Albiceleste training a good kid named Messi. As to whether I was the best, I will say the one thing: I do not know…I never liked that the voting".
PD: I think I forgot to tell you my name: Diego Maradona, Diego. Forever immortal