Maradona, God does demon?
If one reviews the history of football, the name of Diego Armando Maradona is written with golden letters in the Olympus of sport. For many it was and is the best player ever, for others it is not the best but they are among the best, for virtually everyone who has seen several decades of football you are safe in the top ten of the great. Nicknamed God for many, he even went on to found a church in his name. That was during his playing, Bright least the end but…far from personal plagued by disasters and outbursts.
As a player, Maradona led dramatically to win the World Cup in Mexico 1986. It was definitely the highlight of his career. In Naples, Superlative level was and is still remembered as an idol for the fans of San Paolo which vibrates when your old symbol treads the steps of the ancient stadium Neapolitan. But nevertheless, as a player and had occasional outburst, especially at the end of his career. League went through the ranks of the club in the early 80 and after the decade of the Sevilla of his friend Bilardo.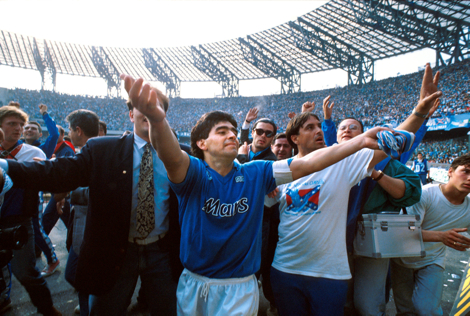 In the early 90, It was published his addiction to cocaine and in the World 1994 held in USA she went out the back door after he tested positive in a doping test after the match against Greece in which he scored a goal, the last of the "Fluff", and in the total decline of his career, in a World Cup event. After years of sanctions, withdrawals and turns but never, He was again who had been especially in the 80, his golden moment.
What it came next was even worse. Attacks on journalists, health problems, clinics in Havana and morbid obesity for which he had to undergo surgery after a serious scare . CONATO death that I aim was to send Diego to another neighborhood. All this seemed to have passed when he was appointed Argentina coach for World Cup 2010 in which Argentina qualified in the playoffs and in which Maradona made history by Argentine journalists dedicate an affectionate little phrase. Celebrate she became the "keep sucking".
His last years have not fared much better. A step coaching Dubai, photos of him posing in a bodybuilding plan, a video with a fight and mess getting out of a nightclub, allegations of assault his last girlfriend complete a very poor record off the court. Precisely a video recorded with mobile partner in which Maradona, with a clear binge over, avalanza it on top of her and assaulted while she asks him to stop hitting, hit the news confirming if someone had not realized that the idol, It has feet of clay.
His recent scandals in Madrid, city ​​where he has been staying to see the Real Madrid-Naples Champions 2016/17 only confirm the decay of a star as a person who has never lived up he was as a player. His barriobajeras threats to a Spanish journalist on his arrival in Madrid, to style "if you do not hit the nose you have left" O " if you stick you hand in hand spoiled" coupled with a morning visit the National Police to your hotel, an alleged complaint of mistreatment of his girlfriend (the same who recorded the video 2014), make it clear that long ago that Diego Armando Maradona, God went to hell. The ball did not stain but cries of grief.