World U-20 in Nigeria 1999, the beginning of success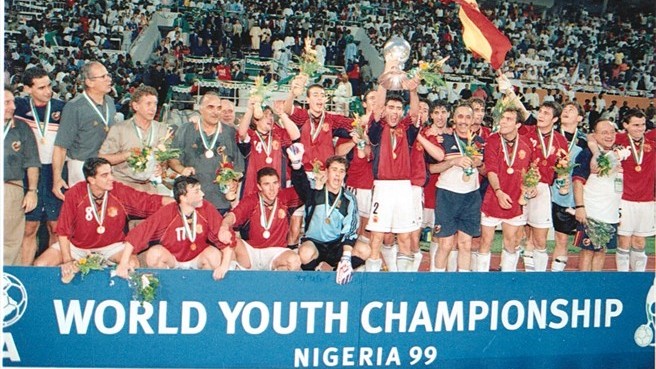 World U-20 Nigeria was the beginning of the success of Spanish football. Many think that the winning cycle of the Spanish team in the XXI century began that night 2008 when the hand of Luis Aragones disappeared thanks to a goal from Torres, Spain won his second European Championship history. The World Cup in South Africa 2010 y la tercera European Championship 2012, They confirmed the level of a unique and unparalleled generation. But the first stone on the road began long before, almost a decade earlier, in the last year of the twentieth century when in faraway Africa, Spain won its first Sub world but 20.
Was a 24 April 1999 when Spain, after thrashing Japan 4-0 in the end, was proclaimed champion World Youth, crib always great stars. On that computer, Players who played then European champions and World proclaimed with later called "day". Casillas, Xavi y Marchena formaban parte de aquella generación de Oro ¿Sabes quiénes eran el resto y qué fue de ellos? What you have.
¿Qué fue de los campeones del Mundial Sub-20 de Nigeria

?
Daniel Aranzubia (1979): Fue el portero titular durante todo ese Mundial. He passed his Athletic Bilbao, Deportivo de la Coruña y también por el Atlético del Cholo Simeone campeón de Liga y subcampeón de Champions en 2014. He played all in 1 chance.
Iker Casillas (1981): curiously, which then was a legend in the history of the goalposts Spain, fue el suplente en aquel World 1999. His subsequent career is well known. He has risen as captain of Real Madrid and the Spanish national team, Champions, Suspenders, Copas, European Championships and World. They say he is the best goalkeeper in the world over the past decade. De lo que pocos dudan es que es el uno de the best goalkeepers in the history of Spain. He left his Madrid always to go to Porto. He retired in 2019 tras sufrir un infarto en un entrenamiento del que afortunadamente se recuperó y pudo seguir su vida con normalidad.
Pablo Coira (1979): right lateral great tour, pointing good ways did not end then confirmed. He left Celta Compostela to pass or Recreativo among others but never reached the level that 1999 pointed.
Carlos Marchena (1979): destacó en el Sevilla del que pasó al Benfica y de ahí al Valencia donde vivió sus mejores temporadas con 2 League titles, 1 UEFA and 1 Supercopa de Europa durante casi una década. Then he went through Villarreal and Deportivo with which he accumulated two descents followed. It was campeón del Mundo and of Europe con la selección española absoluta.
Javier Jusué (1979): was one of the most promising players in the quarry of Osasuna but over the years was diluted and after passing through teams like Getafe and Recreativo Segunda, He ended his career in Segunda B and Tercera, away from the glamor of others of his generation.
David Bermudo (1979): en el momento de ganar el Mundial Sub 20 It was one of the most promising defenses of the quarry Barca. He came to be called up for a Cup match but eventually their wake went off and developed most of his career between Second and Second B.
Alvaro Rubio (1979): talented player, He was part of the quarry of Zaragoza 1999. He went through the Albacete to sign in 2006 by Real Valladolid where he became one of the classics of pucelano club.
Pablo Orbaiz (1979): Osasuna belonged to that year which had already been a couple of years in the first team. But nevertheless, He reached the top flight with Athletic Bilbao with whom he played 11 temporadas en Primera División para acabar su carrera profesional en el Rubin Kazan ruso en 2013.
Xavi Hernandez (1979): the brain of the best club and the best selection of Spanish history that was so youth team. as Casillas, It has almost all titles. The Brazilian 2014 It was his fourth and final World. It was the best clip one of the greatest talents that has ever Spain. Después alcanzó el banquillo del Barça como primer entrenador en 2021.
Gonzalo Colsa (1979): the late 90, even with hair, It was one of the most promising players in the Spanish lower. Over the years it became a classic in its First Racing Santander. He played in Logroñés, Valladolid, Mallorca and Atletico Madrid in two stages. Un clásico en los juveniles del PC Football 5.0 of 1996-97.
Fernando Varela (1979): wide player, le marcó un golazo al Barcelona con la camiseta del Betis, club to which he belonged at the time to go summoned to the World Nigeria. He also played for Mallorca, Valladolid and Steaua Bucharest.
Fran Yeste (1979): a different left handed. At the time of going to the World Cup he was one of the most talented young players. Raised in Lezama, It was one of the classics of Athletic until 2010 he went to Arab Emirates and Olympiakos. It started after a stage in the bench.
Jose Javier Barkero (1979): with a left gold, He promised in the quarry of Real Sociedad but could never succeed in the box donostiarra. Jugó varias temporadas en el Numancia y alcanzó su máximo apogeo en el Levante con el que triunfó en Primera y jugó en la Europa League.
Ruben Suarez (1979): otro jugador con un guante en la zurda sobre todo en los lanzamientos a balón parado. Raised in the quarry of Sporting Gijon, He played in the first team and gijonés in Elche although it was not until arrival at Levante when he managed to reach the top flight of Spanish football.
En el cuadro granota vivió los mejores momentos de su carrera y coincidió con otro campeón como Barkero. Then he left to play China, he returned to Spain to enlist in the ranks of Almería, se marchó a Grecia y volvió a Valencia donde se afincó para apurar su carrera en la Tercera División valenciana en clubes como el Castellón, Torrevieja and Torre Levante. son of the mythical Cundi.
Gabri (1979): Gabri fue uno de los mejores jugadores del Mundial Sub-20 de Nigeria. Then he consolidated at the club whose quarry came and was part of the first team for six years until he left Ajax and Qatar where he drained the last days as a footballer.
Álex Lombardero (1979): If this player is the most dramatic of all. Lugo player at the time when the World Cup was played, his professional football career never got off the ground. Fichó por el Merida y finalmente tuvo que dejar el fútbol al serle diagnosticada una enfermedad degenerativa que lo dejó prácticamente impedido. He came out in Sálvame, Gossiping program Telecinco, contando su historia y como trabajaba para la ONCE.
David Aganzo (1981): delantero bregador, It was one of the values ​​of the white factory of Real Madrid. After he signed for Espanyol and Levante went through, Racing de Santander and Rayo among others. He played in almost every category but never absolute. Posteriormente se convirtió en el presidente de la AFE.
Pablo Couñago (1979): was the Bota de Oro de aquel Mundial juvenil con cinco goles. He played in the quarry of Celta and Recreativo passed, Málaga and Numancia but not highlighted in any of them so they had to look for life in England where he played in the second category of English football and ended up floating around Vietnam. If another player who promised much and stayed halfway.