The most promising Spanish football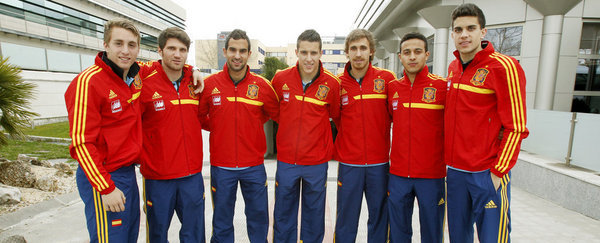 Hanged for football brings the best promises of Spanish football. We want to bring those players who in the near future will set the tone on the lawn of the League stadiums , foreign and possibly the shirt of the Spanish team.
The numerical order of our list does not indicate that one is better than the other, just we try to enumerate what we consider the best promises under 23 years of Spanish football.
1-Cristian Tello
And it takes several seasons entering the Barcelona first team but still has not been settled. Fast and with a capacity overflow overwhelming, reminds the old-fashioned ends.
About to turn the 22 It is a fixed selection Sub 21 but soon should take that step forward and settle both the first team Barcelona and the Spanish national team , especially if you change the style of game "day".
2-Jesse Rodriguez
The other day we were talking in an article promising player of Real Madrid Castilla. Jesse Rodriguez is compared with Cristiano Ronaldo and not just for their hairstyles but for his game and his scoring overflow.
The canary 20 years has all the conditions for future crack of Real Madrid if Florentino policy permits. international Sub 21, Much is expected of him in the future. He has marked 22 goals in Second Division.
3-Gerard Deulofeu
The future crack of FC Barcelona, Jesse Rodriguez partner in the U 21, It has been one of the stars of the Second Division marking 18 goals. With a promising future, the next crack of Barcelona could be home.
Quick, technical goal and, He debuted 17 years in the first division two seasons ago. The player born in 1994, It does not have a secure future in the short term with the first team at Barcelona but the future has to be yours.
4-Ruben Garcia
Valencia has been one of the revelations of the season. From the left side Levante has brought a dose of freshness, speed, dribbles and goals. He played 31 La Liga scoring games 4 goals and Europa League. Last season was on youth and practically has not spent by the subsidiary granota.
Born in 1993 It is one of the most promising players of today. His progression has already attracted the attention of Arsenal Wenger though perhaps still have to improve. international Sub 20.
5-Dani Carvajal
Bayern Leverkusen right-back comes from the quarry Madrid where it came from not having opportunities. After an excellent season in the Bundesliga, It has been named best right back in the ideal eleven league.
Born in 1992, This is one side future selection, which possibly it has already done enough to get. Real Madrid has recovered for new project. It is an excellent international player Sub 21.
6- Jorge Resurrección "Boil"
Simeone's arrival was a turning point for this excellent midfielder Atletico Madrid. Quality and a glove on his boot, Koke has been gaining gallons into a fixed eleven of Atletico finally seems to have taken a step forward.
Born in 1992, It has two seasons to an excellent standard. Much of the blame lies with its excellent striking set pieces and powerful ordered. international Sub 21, He was present at the London Olympics.
7-Iker Muniain
The small left-winger Athletic Bilbao looks like a veteran but just have 20 years. And that debuted very young with zamarra Lions, He did it in 2009 with scarcely 16 years and a few days. For two seasons he was the youngest player to score in First.
Now in its fourth season in the Athletic and it has been international absolute and, but for now it is a set of Sub 21 and the ranks. He has been champion of Euro Sub 21 and he participated in the London Olympics.
8- Isco
We can discover little at this point Isco. Talent, fantasy, goal and overflow capacity to serve the viewer. We talked about one of the future top players in Spain and the world.
Malaga-born but raised in the quarry of Valencia, I had to leave the club in the city of Turia because they did not trust him. They wanted to continue in the third when the Malaga paid 6 million euros for a player who had not played at the highest level. His return home could not do better.
Its value has appreciated, especially for its exhibitions Champions. He has already debuted with the absolute surely in the very near future will be a benchmark but for now still calling the shots of the Sub 21.
9-Óliver Torres
At 18 years Óliver Torres is one of the most promising players ahead. Star Sub 19 He has already debuted in First. He did it with only 17 years and hand of a Cholo Simeone has given 10 Primera Division matches.
Despite having age to be in the Sub 19 a Sub 20, and played in the U 21 and he has the talent to give that talk in the future.
10-Roger Martí
The Levante player was the second top scorer of the third group of Second B despite having spent virtually his first team since November. And it is a player with a goal, long shot.
Granota subsidiary carries the drilling networks for two seasons. He did last season and third in the Cup of the King with the first team. This season it has in Segunda B and also in First which premiered with a goal in Balaídos and has accumulated many minutes. Forward scorer, their 22 years has a bright future ahead. Surely another pearl for Levante.
11-Rubén Blanco
Now is a hero in Vigo. Born in 1995, This youth of 17 years had the difficult ballot to debut in the penultimate game of the season after the injury of Javi Varas. He did in Valladolid, his team was dead and nobody gave a penny for them.
The boy complied and had the best team. The best was yet to come, Celta was going to save on the final day and the young goalkeeper was going to be the best of the party and would save his team. He left shoulder.
Wicketkeeper-coming, It is a set of lower and will certainly be interesting to follow its progression.
12- Juan Bernat
Either left-handed end or side, the player often Valencia has finished contesting many minutes in the competition. Fixed in Sub 20, Bernat has alternated good games with some not so good.
Profile resembling Jordi Alba, Valencia seems to want to clone that was one of the best players we have had in recent years. Quick, with overflow and those who like to get you to the bottom line, This is certainly a player to watch in the short term.
13-Thiago Alcántara
Mazinho's son chose to defend the Spanish elastic instead of his brother Rafinha that he decided to Brazil. Barcelona player is a true Harlem Globetrotter football.
With an impressive individual technique you are able to bring incredible passes and handle a team. This is a rough diamond that if proper care and he polishes well, Spain may have in him one of the best midfielders in the world in the future. Fixed at the lower of Spain, It is an international Sub 21
14-Sergio Canales
The Spaniard has beaten the last two seasons by injuries but is a player of the highest level. It began to emerge from very young in the ranks of the Racing, It is a revelation for his young age at the time.
Its high performance and quality earned him his move to Real Madrid where its progression slowed alarmingly. With his arrival at Valencia seemed that the young player born in 1991 He would recover its wake. Two very serious injuries he weighed but in recent months seems to have regained the brightness. international Sub 21, Much is expected of football he has in his boots.
15-Alvaro Morata
Player of Real Madrid Castilla begins to make a name in Spanish football. This season he has played more minutes in First with the shirt of the first team of Real Madrid and has even marked in First Division.
In Castilla has made goals. It is a striker with good shot and a great capacity goal. It was one of the best players in the European Sub 19 a couple of years ago and now he is one of the front of the U 21. It has a great future ahead.
Other young players to watch:
Martin Montoya, Muniesa, Bartra and Sergi Roberto (FC Barcelona), Ivan Lopez (Levante), Pedro Obiang (Sampdoria), Ignasi Miquel (Arsenal), breast (Liverpool), Alvaro Vadillo (Betis), Jonas Ramalho (Athletic Bilbao), Jordi Amat (Vallecano Ray), Oriol Romeu (Chelsea), Paco Alcacer(Getafe / Valencia), and Manquillo (Atletico de Madrid).