Players with more titles in the history of football
In Colgados for football we continue to provide news that does not usually appear in most media. One of them is referred to the most successful players ever. Players who have won everything or nearly that much can you earn with their clubs or selections. A great individual talent and of course, some colleagues and a team of luxury are the key pieces to get titles and titles. Although there are many unknown players in leagues with countless official tournaments, We highlight the most players who have won major competitions:
1- Ryan Giggs: officially, the player with the most titles in the history of football 35, be the result of many years on a category of Manchester United. 13 Leagues England, 4 Queen Of England, 4 League Cups England, 9 Supercopas England, 2 European Cups, 1 European Super Cup, 1 Intercontinental Cup and 1 Club World Cup. But nevertheless, his poor baggage with a team like Wales and the lack of the UEFA Cup and Cup Winners stand out as his most black spots.
2- Vítor Baía: the most successful goalkeeper with other 35 titles conquered. Among them, 11 alloys Portuguese, 9 Portugal Supercup, 6 Cups of Portugal, 1 Spanish league and 2 Copas del Rey they complemented by a European Cup, 1 Recopa, 1 UEFA Cup, 1 European Super Cup and 1 Intercontinental Cup. Like Giggs missing titles with selection. And if that was not enough, record unbeaten in the Portuguese league 1191 unbeaten minutes.
3- Alfredo Di Stéfano: 8 Spanish league, 2 Argentine leagues, three Colombian league, five European Cups, 1 Intercontinental Cup, 1 Copa America, 1 Generalissimo Cup and one of Colombia. Five times Pichichi in Spain and top scorer for a season in Colombia and Argentina. Simply, the Saeta.
4- Skin: 3 world, 10 championships Paulistas, 5 Cups Brazil, 2 rock Cup, 2 Liberators cup, 1Roberto Gomes Pedrosa tournament, 4 Rio-São Paul Tournament, 2 Intercontinental Cups, Supercopa Intercontinental, 1 North American Soccer League, Soccer Bowl y 1 North American Soccer League, Atlantic Conference Championship. A prize-worthy for many best player ever. A sentence that does not contain European titles to make a better comparison.
5- Xavi Hernandez: 1 world, 2 Eurocopas, 1 Olympic silver, 7 Suspenders, 2 Copas del Rey, 5 Supercopa of Spain, 3 Champions League, 2 Club World and 2 European Super Cups a record in barely missing a Recopa, UEFA, the Confederations Cup and Olympic gold.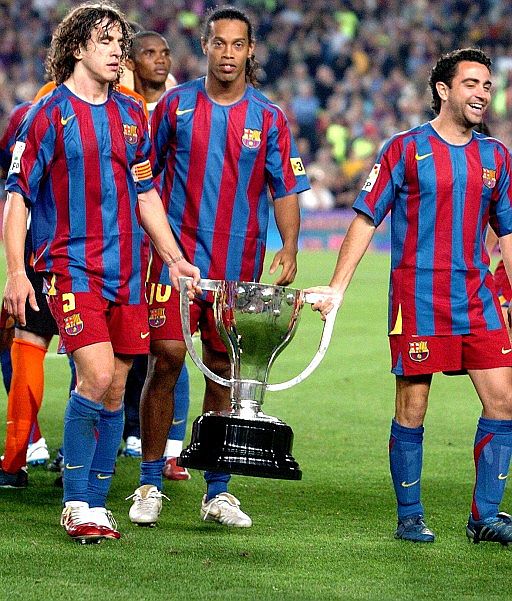 6- Ronaldinho Gaucho: who writes for the best record and the most complete. 1 world, 1 Olympic bronze, 3 Copa America, 2 Spanish league, 1 Champions, 1 Liberators cup, 1 European Super Cup, 2 Supercopa of Spain, 1 Scudetto, 1 Intertoto Cup, 2 Golden Balls, 1 Campeonato Gaúcho, 1 Minerão, 1 From Rio…which add a sub World 17.
7- Paco Gento: 12 Suspenders, 6 European Cups, 2 Copas Latinas, 1 Intercontinental, 2 Generalissimo Cups, the player with more European Cups and Spanish leagues history. A living legend. "Gento runs much, but the worst thing is not how to run, The worst thing is how to", he said of his rivals.
8- Paul Scholes: 11 Leagues England, 4 Queen Of England, 3 League Cups England, 7 Supercopas England, 2 European Cups, 1 European Super Cup, 1 Intercontinental Cup and 1 Club World Cup. Already retired, another banner of the United.
9- José Manuel Pinto: hard to play so little and gain much, something that makes it deserves enter the list. 3 Spanish league, 2 Champions, 2 Copas del Rey, 2 Club World, 1 European Super Cup, 3 Supercopa of Spain, 1 Intertoto Cup and Zamora trophy. impressive resume.
10- Franco Baresi: 6 times in Serie A, 4 sometimes the Italian Super Cup, 3 time champion of the Champions League, 3 times European Super Cup and 2 Sometimes the Intercontinental Cup for a total of 18 protruding titles in the World Cup 82. A luxury that not even equal Paolo Maldini.
Special hollow for Cafu, the quality of the titles the most successful player who has never been on a field: He and Carlos Tevez, They were the only players to win the Copa Libertadores, the Champions League, the Intercontinental Cup and the Club World Cup; It is also the only one to win with this World Cup, Copa America and FIFA Confederations Cup, Recopa of Europe, the Recopa Sudamericana, 1 Scudetto, 1 Coppa Italia, 1 Italian Super Cup, 3 championships Paulistas, 2 European Super Cup, 1 South American Supercopa…everything that can ultimately achieve the Olympic gold medal squad and UEFA Cup.