The Russians of Sporting de Gijón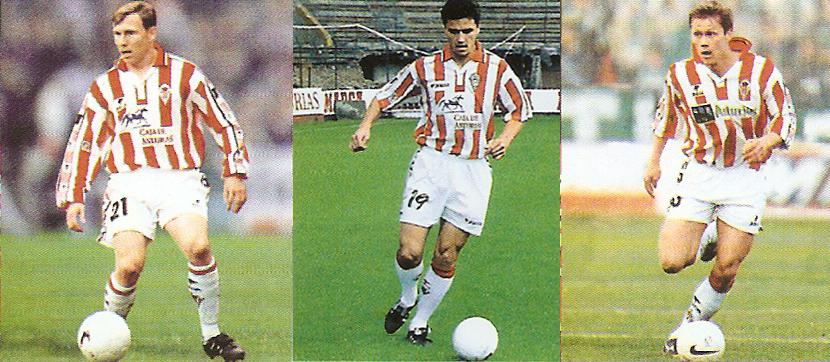 Today we remember Russians Sporting Gijon. The Asturian team is one of the records of the Spanish First Division, one of the classics of the Spanish championship. their stadium, El Molinon, It is one of the soccer fields with more solera, tradition and aroma of Spanish football picture.
Despite not going through its best moments, the gijonés box has been the cradle of many talents emerging from its quarry, the mythical school Mareo. Despite this, the Spaniard box, he signed three international Russians who defended their rojiblanca elastic between half of the 90s and beginning of the new century in which we. Do you remember?
The Russians of Sporting de Gijón
Igor Lediakhov was the first Russian players who arrived in Gijon. He did it in 1994, almost by surprise since it was intended by several great Europeans and alternated glory evenings with other quite disappointing evenings. He remained at the club until 2002 although it was given during the season 1997/98 a Japanese team.
After, finished off the beaten Sporting discipline and went to play football where their Eibar, cataloged by some classroom, did not triumph over it back then almost always muddy grass Ipurua. Very classy player, he was accused of having too little blood and not take advantage of the tremendous talent that had. some even, He went on to say that only played him where was the shadow. The typical misunderstood genius.
yuri Nikiforov He arrived in Gijon 1996 and he remained until 1998. central defense to high quality, It was one of the most sought after players in position at that time and international with Russia. He completed a great first season and left at the end of the second season after the horrible starring Sporting that ended in relegation after winning a horrible score, the worst in the history of the League of 3 points. High quality player, was a great success of the technical secretariat sportinguista was able to gain the services of one of the best defenders in the market at that time.
Dimitri Cheryshev he joined the Russian clan 1996 and he remained throughout the Molinón to 2001 year in which he went to Burgos. power Forward, fast and with good definition, He got into trouble over a defense that he was unable to stop the small forward who barely reached 1,70. Your son is Dennis Cheryshev, professional footballer in teams like Real Madrid, Lediakhov in a match against Real Madrid in.