Five stories and anecdotes of the European Day
The defeat of Barcelona and Manchester City tops the summary that we do every Sunday about the best of the weekend. Nor do we overlook, the streaks of Real Madrid and Bayern Munich, big favorites to win their leagues and who knows if also the Champions League:
1- The Barcelona, bleeds out. The 27th day of the League left us with the unexpected setback of Barcelona in Valladolid. A solitary goal was enough for JIM's team to knock out the Blaugrana, who are four points clear of the lead after Real Madrid won by 3-0 to Levante with a goal from Ronaldo. The blaugranas transmit the image of a team in adrift and the madridistas as champions. All of this, with permission from Atlético, that beat 0-2 to Celta with two goals from Villa, who perfectly replaced the loss of Diego Costa.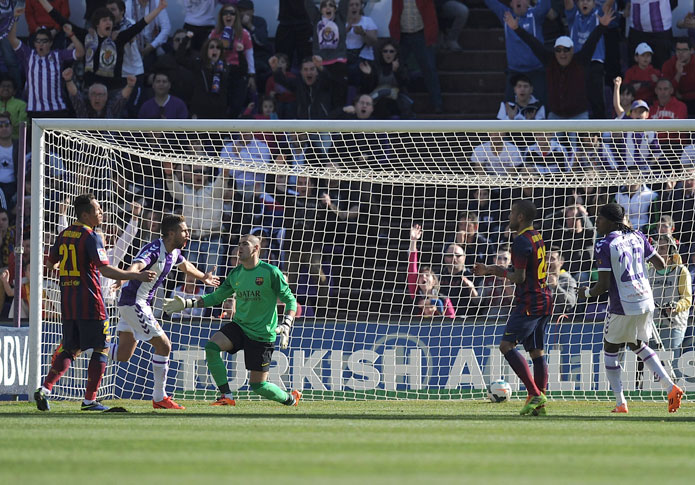 2- Chelsea leader, City out. Halfway between the FA Cup and the Premier, the weekend passed in England. in league, Chelsea won 4-0 to Tottenham and reaffirmed its leadership with a great Samuel Eto'o and Hazard. United also won 0-3 to West Brom and fight to enter Europe. In the FA Cup, City foundered in their attempt to reach the semi-finals when they fell 1-2 against Wigan, the current champion, who will face Arsenal for a place in the final.
3- Juventus, to yours. In Italy, Juve won 1-0 to Fiorentina and continues to praise what would be his second consecutive title in Serie A. The AC Milan, meanwhile, He fell during his visit to Udine and it was very difficult to play next season in Europe. Inter, instead, won 1-0 to Torino and is approaching fifth place. The big match of the day is between Naples and Rome.
4- El Bavaria, matter of days. In Germany, Bayern continues without respite and this week Wolfsburg paid for the ambition of Guardiola's team, They made a set for him at his house. With ten days left to finish the Bundesliga, Bayern leads in 20 points to Borussia who won 0-1 to Freiburg.
5- And we end up today in Italy, where Benfica won 2-0 to Estoril and leads Porto by seven points with eight games left to finish the championship. Income that seems more than enough to win the title.