Five stories and anecdotes of the European Day
La derrota del Barcelona y del Manchester City encabezan el resumen que cada domingo hacemos sobre lo mejor del fin de semana. Tampoco pasamos por alto, las rachas de Real Madrid y Bayern de Múnich, grandes favoritos para ganar sus ligas y quién sabe si también la Champions:
1- The Barcelona, se desangra. La 27ª jornada de la Liga nos dejó el tropiezo inesperado del Barcelona en Valladolid. Un solitario gol valió a los de JIM para dejar KO a los azulgrana que se separan cuatro puntos de la cabeza después de que el Real Madrid venciera por 3-0 al Levante con gol de Ronaldo. Los azulgranas transmiten imagen de equipo en deriva y los madridistas de campeones. all, con permiso del Atlético, that beat 0-2 al Celta con dos goles de Villa, que sustituyó a la perfección la baja de Diego Costa.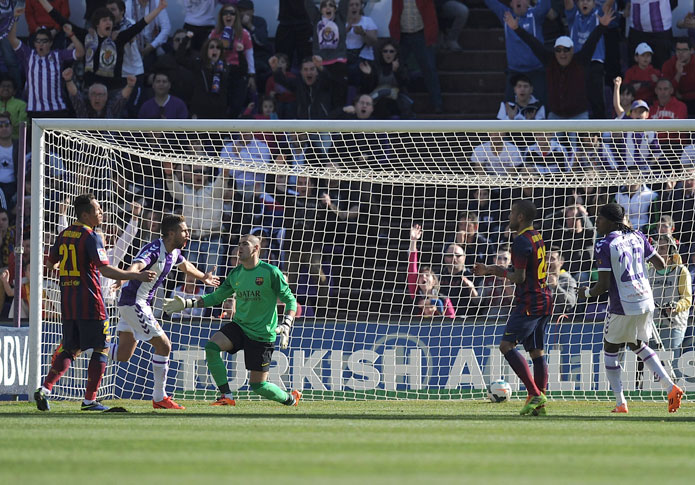 2- Chelsea líder, City fuera. A caballo entre la FA Cup y la Premier transcurrió el fin de semana en Inglaterra. league, el Chelsea venció 4-0 al Tottenham y reafirmó su liderato con un gran Samuel Eto'o y Hazard. El United también ganó 0-3 al West Brom y lucha por entrar en Europa. En la FA Cup, el City naufragó en su intento de alcanzar las semifinales al caer 1-2 ante el Wigan, el vigente campeón, que se medirá al Arsenal por una plaza en la final.
3- Juve, to yours. In Italy, la Juve venció 1-0 a la Fiorentina y sigue apalabrando el que sería su segundo título consecutivo en la Serie A. El AC Milan, meanwhile, cayó en su visita a Udine y se complicó mucho jugar la próxima temporada en Europa. Inter, instead, won 1-0 al Torino y se acerca al quinto puesto. El gran partido de la jornada lo dirimen Nápoles y Roma.
4- El Bayern, cuestión de días. In Germany, el Bayern sigue sin dar respiro y esta semana el Wolfsburgo pagó la ambición de los de Guardiola, que le hicieron un set en su casa. A falta de diez jornadas para acabar la Bundesliga, el Bayern aventaja en 20 puntos al Borussia que ganó 0-1 to Freiburg.
5- Y acabamos hoy en Italia, donde el Benfica ganó 2-0 al Estoril y aventaja en siete puntos al Porto a falta de ocho jornadas para acabar el campeonato. Renta que se antoja más que suficiente para ganar el título.