Ladislao Mazurkiewicz, the best goalkeeper in the history of America
For many, Ladislao Mazurkiewicz It was the best goalkeeper in the history of America. Circulate an urban legend, here, Europe, that South American goalkeepers cannot be good goalkeepers. It is said that its level except for cases is usually low, I don't really like the idea of ​​being goalkeeper around those parts. logically, when we talk about urban legend, We talk about it, something that speaks but does not have to be true.
Ladislao Mazurkiewicz, the heir to the 'Black Spider'
They say it, it is one of the best goalkeepers in history, and of course, it is the best goalkeeper in the history of the Americas. Ladislao Mazurkiewicwith, despite its name, He was not born in Poland but it did in Uruguay, specifically in the city of Piriapolis, which despite its name, even this in Greece, but in the South American country.
It did the day of lovers 1945, that is, the 14 February. The best of all, is that almost reached the goal of luck, unwillingly. When he started at Racing Montevideo, He did center forward, but it turned out as good Ladislao lingered in the locker room, when he left to start the test and had 21 players on the field and just missing a goalkeeper, so there and unbeknownst, He began his legend.
He played in the Uruguayan Racing, in two stages in Pinerolo, Atletico Mineiro in Brazil, four seasons in the Spanish Granada, Cobreloa in Chile and Colombia America. Altogether it was active from 1963 until 1982, year in which he retired from active football. He won three Uruguayan championships, one in Brazil, Libertadores and Intercontinental in 1966 and Supercopa intercontinental Champions 1969. all, with Peñarol .
With the Uruguayan national team, He won the Under-20 South American Championship in 64, the South American Championship 1967( Now Copa America) and she reached the semifinals of World 1970, where he became famous for his play with Pelé, lto the goal that was not a goal, in this World, was appointed best goalkeeper of the tournament. He played in three World, defending the goal "charrúa"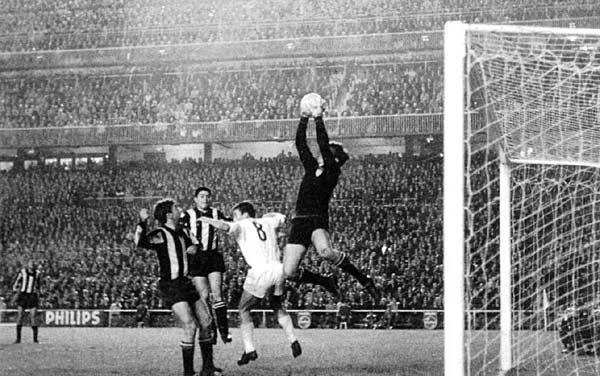 Lev Yashin, "Black Spider", which is considered the best goalkeeper of all time by football historians, He gave his gloves in a party tribute in which they agreed, and he said after retiring his successor, It was the Chilean goalkeeper. Big words. The 2 of January of 2013, Ladislao Mazurkiewicz died at 67 years due to respiratory problems, exacerbated by a kidney problems.